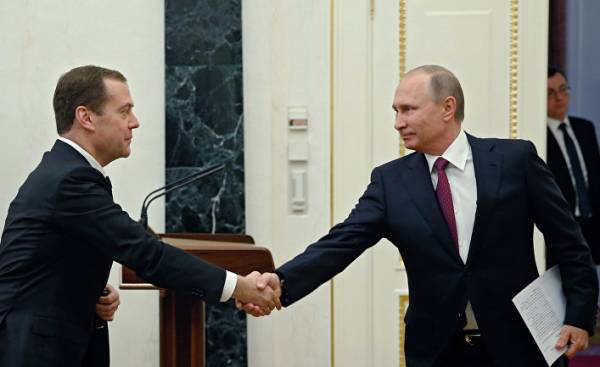 About the split of the Kremlin elites talking about 15 years, and that includes me also say this. More or less confidently can say that Putin has always distanced himself from Medvedev. Now Bulk like a very sensitive political animal with a good sense of smell never says a word against Putin at these meetings. Yet. Only Medvedev, but corruption, only shoes.
Not because Navalny is an agent of Putin, as is commonly believed. Rather because Navalny is a politician, a demagogue, appealing to people. And the people Putin's attitude more anxious than the Bulk.
Navalny chose a narrow sector of attack and concentrated their efforts, that is absolutely correct from the point of view of a loyal strategy. Because people who criticize or refute bloody Putin's regime — as dogs nerezanyh, but they do it in the verbal space that today's youth interested.
About bloody Putin's regime write Illarionov and Kasyanov, who is anything but Bulk, in contrast, is a politician and a pragmatist. Yeah, he's a populist, he's such a troublemaker. But, in any case, he understands how the power of the Kremlin, he separated from Medvedev and Putin launched an attack on Medvedev, on a narrow group. This means that he understands that there is a crack and there is a sense it to expand and shatter. Putin, he will attack next turn. First you have to take a weaker fortress.
So, Yes, there is some split of the elites, though the term evaluation. There is always a gap between elite groups and competition between them. Yes, there are law enforcers who hate Medvedev, who want more money for the military-industrial complex.
Putin, who understands that before the election necessary to consolidate public opinion, certainly comes to mind the idea of being able to sacrifice any large boyar. Ulyukayev sacrificed, but the enthusiasm is not caused. Well, planted, and planted, nothing really interesting. It is clear that this idea is in the air, but not the fact that it will be implemented before the elections. Should the resignation of one Prime Minister, as it is necessary to appoint another. The other will always be someone unpleasant — either the liberals or the patriots, or Westerners. And with Medvedev, everything is clear.
So Yes, the elites have a rift, but I do not see that it led to fatal consequences for Medvedev. Although, of course, there are signals. All this talk that "Dmitry Anatolievich was ill, it did not save" — is typical for Putin. He loves to tease the public opinion, sends the signals and plays it. Believe it or not believe it, but he has a feeling that he is completely in control of the situation. First, he understands that the Bulk of it is very dangerous, not for Medvedev, and for him. Therefore, if he will pass Medvedev, in the last turn.
He does not like to surrender their people, and under pressure from the outside — doubly so. It will be perceived as his weakness. Therefore, Bulk hardware now somewhat strengthens the position of Medvedev. To dismiss him now Putin will never agree, because it would mean that he caved in under the demands of the Bulk. And for him this is unacceptable.
Comments
comments