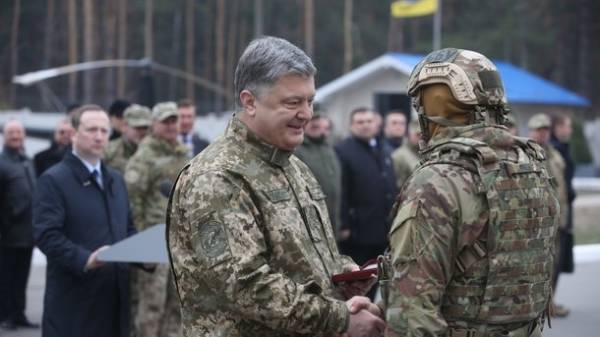 President Petro Poroshenko on behalf of the Ukrainian people thanked the veterans, executives and employees of the security Service of Ukraine for the protection of national sovereignty, professionalism, responsibility and hard work. This is stated in the congratulation of the President on the occasion of the 25th anniversary since the establishment of the SBU, posted on the official website of the President.
"For a quarter century, the fate repeatedly tested you for strength. These officers passed the path with dignity, without changing the oath of the Motherland. Have you joined the youth inspired by the ideals of the revolution of Dignity. The Ukrainian people are grateful to all the dedicated patriots who defend freedom and independence of Ukraine on the front line, which was the whole country," – said Petro Poroshenko.
He stressed that the security Service of Ukraine – a key sector on security and defence of the state.
"Certain tasks for you, it is difficult to overestimate, because in the context of a hybrid of aggression all spheres of life of the state are vulnerable and need protection," – said the President.
"Thank the Service personnel for their professionalism, responsibility and hard work, and your family – for your patience and support. Grateful to all the veterans – those who since the proclamation of independence of the Ukrainian state formed a new civilized intelligence Agency, designed to protect state sovereignty and territorial integrity of the country", – said the head of state.
We will remind that security Service of Ukraine was created on March 25, 1992.
Comments
comments