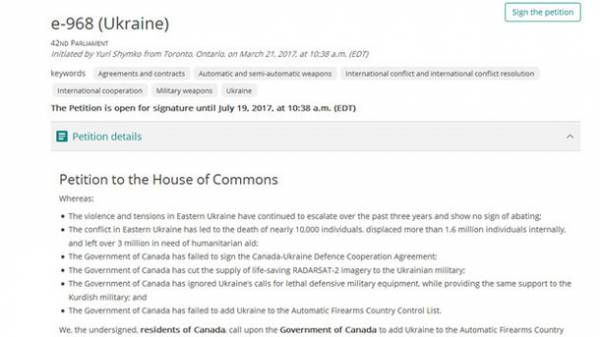 In the Parliament of Canada was e-petition, which calls on the government to start supplying defensive lethal weapons to Ukraine.
As UKRINFORM reports, petitions are not enough, just four hundred signatures to get on the discussion of the Parliament.
The petition has already received support from MPs from the Conservative party James Besana. "Confrontation with Russian-backed militants in Eastern Ukraine has escalated. Ukraine needs lethal defensive weapons to protect its citizens and sovereignty. Sign the petition and send the signal to the government," wrote Besen on his page on Facebook.
Except for the transfer of Ukrainian weapons, the petition calls on the government to sign the agreement on defense cooperation with Ukraine and to make it in Automatic control list of countries by firearms.
This list (Automatic Firearms Country Control List) identifies the countries in which Canada allows domestic producers to supply weapons. Now it includes 35 countries, including Botswana, Russia, Saudi Arabia and Colombia, but there is no Ukraine.
If until July 19 of the petition will be able to collect at least 500 signatures, it will be put to discussion in the session hall of the Parliament. In this case, the government shall within 45 days give written answer.
Comments
comments