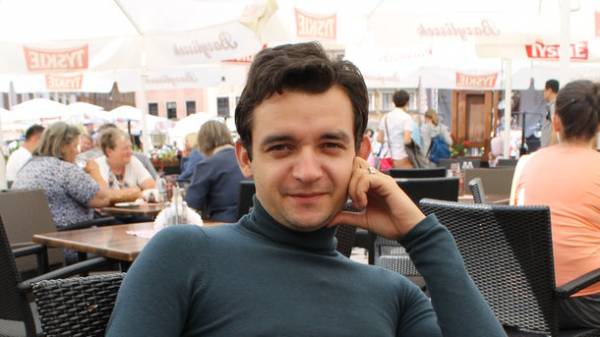 The difficult economic situation forced the Ukrainians to seek employment abroad. One of the most popular in terms of employment States was Poland. We offer readers a series of interviews with the Ukrainians working in Poland. They will tell what happened to their career, the difficulties encountered on the way.
Today our interlocutor – Orest Majewski, almost a year working at an engineering company in the town of Radomsko.
-What inspired you to look for a job abroad?
– Question not to me but to our government. Why a University Professor with experience, who can speak 5 languages, finished his thesis, dramatically changes the life and becomes a worker on the production? It's simple: I earned a penny, looking for part-time work, felt like a poor man. Becomes a bribe – not for me. I want to live honestly, to my mind, knowledge was sought after and rewarded.
– How did you get to Poland?
– First found a job and a work visa for a "modest" 5 thousand UAH. Said that it is very cheap. I hesitated, wanted to avoid such expenses.
And then lucky – I met a friend, the head offices of the company offering a job in Poland for Ukrainians, where all services are free of charge, including job invitations. If not for that meeting, then I would become another prey of local baryg: legal company employment they are looking for jobs and trying to resell them. Make a lot of money. And often do you get on a Scam. The only way not to get in trouble – official job through an Agency that will further protect your rights, it will appoint a consultant, to help with documents. All other methods – the way to labor slavery. In Poland is too real.
-Tell us about your work…
Servicing of the equipment at the plant for the production of pipes for heavy equipment. The first week was work hard. Because before I no tool heavier than a pen in the hands not kept. However, to retrain was not so difficult. The main thing – to master the process, to learn technology, to perform his duties conscientiously. And if you want to live in the country – the language is better to learn at once. Prior to arrival I knew fluent Polish and I was soon appointed curator of the Ukrainian workers. Although I remain the operator of the machinery, but also deal with adaptation countrymen in the workplace.
Another important point, which is very like the plant's strict safety regulations, excellent organization of work. Feel protected, but, on the other hand, realize their responsibility.
– What are the living conditions?
– Housing provided by the Agency. It is not taken from wages, and the enterprise. Live for 2-5 people in the room, toilet, kitchen, heating, hot water, gas.
– Are your expectations for earnings?
– As a teacher I was paid about 4 thousand UAH. Here – 5 times more. However, always get more rates for overtime, Saturday shifts, bonuses. For Christmas all handed packages of food. So I normally eat, dress, even travel. And set aside $200-300 per month. Colleagues, whose families are in Ukraine, send them 2-3 Ukrainian wages per month.
The work in Poland through employment Agency OTTO Work Force is always officially, legally and without payment for services.
Vacancies in Poland:
by phone: +38(067) 3732877, +38(067) 6742932
on the website: https://www.ottoworkforce.com.ua
in SOC.networks: https://www.facebook.com/OTTOUkraina/
Comments
comments