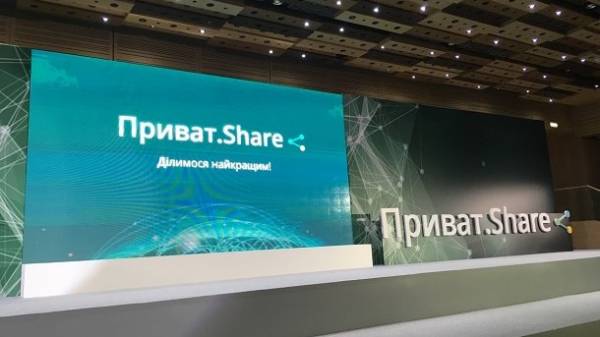 March 21, the eve of its 25th anniversary, the Ukrainian PrivatBank has demonstrated to the public a whole range of technologies aimed at not only improving the customer service of the Bank, but also changing for the better the working conditions of small and medium business, functioning of public services and in the end, the life of every Ukrainian.
At the meeting, "Private. Share", in which took part representatives of the banking community, small and medium business, heads of local authorities, journalists invited had the opportunity to experience in practice the Bank's proposed digital services.
In a special demo area "Private. Share" demonstrated services that allow you to make an appointment to see the doctor, pay utility bills, the bill in the restaurant or in the Parking lot by QR code. Also presented were service "Social Cabinet" to calculate pensions or subsidies, postomat, a system of identification of risky borrowers. All of them are deployed on the basis of the most popular in Ukraine mobile banking Privat24. Soon Privat24 will also be the base for the development of national and regional digital services, such as e-ticket, citizen card, etc Mar 14, PrivatBank has announced the launch of contactless digital wallet through which 5 million of the Bank's clients who use mobile banking service Privat24, were able to almost instantly and securely pay with their smartphones
"It is no exaggeration to say that today PrivatBank has become one of the leaders in digital banking. And we continue to invest heavily in the creation of innovative digital services", – said the head of the Board of PrivatBank Alexander Shlapak.
Comments
comments