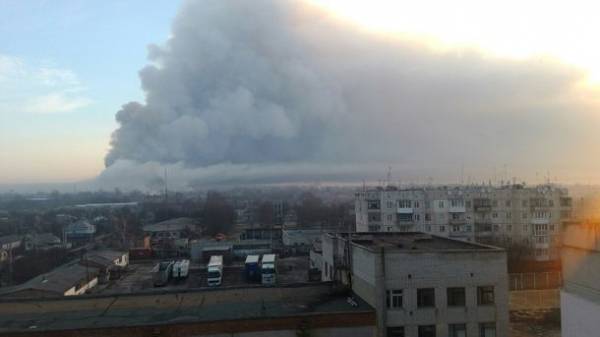 In the town of Balakleya and small villages near the epicenter of the explosions as of 10 am have bought up all the gasoline. In the Balakleya and around the city also shut off the electricity.
About it from a place of events informs correspondent of "Today" Irina Antonyuk.
"In the midst, in the town of Balakleya and small towns number of people still remain. It is impossible to find gasoline it sold out, it's not anywhere at all. There is no electricity or in the Balakliya, or in towns nearby, turn it off," – said Irina Antonyuk.
According to preliminary information, the people who have not evacuated from the danger zone, began to bring humanitarian aid. Handed out bread and water.
Now from risk areas continue to evacuate people. However, most locals still night left on their own.
"Many left not arranged and independently. Some walked, some by car", – said the correspondent of "Today".
According to local residents, the night the shells exploded every few seconds approximately, the day the explosions began to sound less often, approximately once in 10 minutes.
As reported, in a network there was video of explosions in warehouses of ammunition in Balakliya, which began to break the night of the fire.
Video: Dima Cherepakha
In the video you can see how in the midst of the fire, the bursting shells, the sky is tight with thick smoke.
We will remind, in the night of Thursday there were explosions at munitions depots, located not far from the city of Balakleya of Kharkov region, lit up the military base.
The first information about the incident arrived about 3 o'clock in the morning. Explosions in the warehouses continued in the morning of 23 March.
As the Minister of defence of Ukraine Stepan Poltorak, according to preliminary data, victims as a result of emergency in Balakleya no. Measures are being taken for evacuation of the personnel of military units and population in km area. At this time, have already been evacuated about 20 thousand civilians.
The SBU opened criminal proceedings under article 113 of the Criminal code of Ukraine, qualifying CHP in Balakleya as a diversion.
At 13:00 see the special edition of "Today" on channel "Ukraine" on the state of emergency in balakliia.
Comments
comments