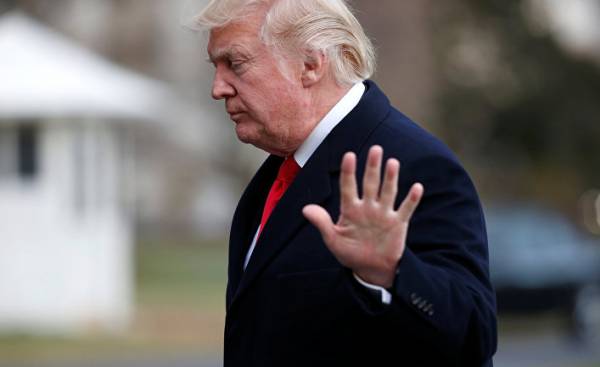 After the election of the President of the United States Donald trump is, in fact, the whole world held its breath. Some believed that he would make America great again. Others that trump will lead to inter-and global chaos. While not true no hope of first or second concern.
Since the inauguration of the trump it took exactly two months. You can already make the first conclusions about his course at the international direction, including Ukrainian and Russian. Therefore, the "observer" talked with an American political scientist, Director of the NGO For a free Ukraine Jason Smart.
Browser: Many experts believe that, in fact, trump has no foreign policy that its strategy on the Russian and Ukrainian areas have not formed. Do you agree?
Jason Smart: He became President a few months ago. During the election race trump has voiced many controversial ideas and plans. But I think, finally, his position will become clear after a few months.
— Recently, Russian foreign Minister Sergei Lavrov said: Russia is not opposed to U.S. involvement in the Minsk process. There is at least some chance that when the trump is that possible?
— I doubt it. Barack Obama has always shown himself as a friend of Ukraine, who is ready to help. The same thing we will see now. I think trump will support the Minsk process. But still not clear how exactly.
We all remember the highly controversial trump statements about the course towards Russia during the election campaign. But in recent months has sounded pretty harsh statements against Moscow. Moreover, many of the key appointed critics of the Kremlin. What is it? The attempt to protect themselves from scandals about relationships, team trump with Russia?
— I think it was the game of the Democratic party, which wanted to show that trump is not in the interests of the United States, and in the interests of Russia. I think that actually he always worked in the interests of the United States. During his tenure trump hasn't made a single step towards Russia. In fact, trump behaves in relation to Russia as well as Obama. Most likely, this will continue. There is no reason to assume that trump is willing to work with Russia closer than Obama.
— In Ukraine many expected that the meeting Poroshenko and trump will take place in February. Remember at the end of last year, interviewed the Deputy head of AP Konstantin Yeliseyev. And he confirmed that such meeting is being prepared. Why didn't she happen? Business in the busy schedule of trump or is there something more?
I don't understand why Poroshenko thought trump was ready to meet him. First, the President of the United States now need to meet with many people. First and foremost with the leadership of China. He has already met with Prime Minister of Canada, was ready to meet with the head of Mexico. This is important because these countries are our neighbors.
Ukraine — next on the list. Not because she is not important. We just have a lot to do with other countries — our strategic partners. We have to wait a bit, and I think that trump will meet with Poroshenko.
— States are disappointed with Ukraine?
Yes. The United States is very much expected after the revolution of Dignity. They hoped that Ukraine will become a very different country. But this did not happen. The US does not see the real fight against corruption.
— Whether in view of this, the new us administration to put on other political players in Ukraine?
Americans are always looking for people who are really ready to work.
— The budget for this year, the United States has provided lethal weapons to Ukraine. But we remember that Obama had twice blocked the delivery. Whether it is trump to go that way?
Yes. I'm sure he will inherit from Obama.
— That is a lethal weapon not be?
— Most likely, not now. But we'll see. Know the reasons why not give Ukraine lethal weapons, it is not so connected with the war. They are associated with corruption in Ukraine. Americans are very afraid that the weapons will not reach for its intended purpose.
— Can the financial aid Ukraine to decrease?
— Yes, we have already observed. Had wanted to give $ 350 million, and the bill ordered 150.
But our Ambassador to the United States Valeriy Chaly said that the 150 million is only a part of total aid. And the rest, he said, will arrive after 1 Oct.
— As far as I know, it's not. I have met people who work in Congress. They said they decided not to give the money due to the fact that they do not see concrete steps to combat corruption.
— In Ukraine are increasingly offering alternative plans to resolve the conflict through a serious "compromise" with Russia. In the administration of the trump serious about such plans?
— In America, I personally don't know of any politician who would agree to give the Crimea and Donbas Russia. I can with absolute certainty say that Americans will not support such plans.
— And if we are not talking about the recognition of the annexation of Crimea, and on how to temporarily remove the issue from the agenda?
— No, I think the US position regarding the conflict in Ukraine will remain unchanged.
— The situation in the Donbas escalates periodically. How to lead a trump, if Russia will go to a serious escalation in the Donbass? Close your eyes or take a tough stance?
— A difficult question. But, if I were Putin, I would not go to a serious escalation, because it is absolutely not clear that trump will do in this case. I think that there might be a very negative reaction towards Russia. I think Putin is smart enough to understand it. After all, the US can answer. For example, the provision of lethal weapons to Ukraine.
— It is believed that the Kremlin wanted the election trump not so much because he Pro much because it can lead to inter-burst?
— I doubt it. In the US there are people dissatisfied with the trump. But those who are willing to do something, less than 3-4%.
— You know, trump is probably the only American President who started to read the impeachment before his inauguration. Against him the Democrats, the part of the Republicans, intelligence agencies, mass media, show business…
— There will be no impeachment. I assure you.
— As far as I know, you're a Republican.
Yes.
— We remember what a strong split occurred in the Republican party because of trump. What is the situation now?
— Now much better. I myself during the election did not vote for trump. I didn't vote at all because I was in Ukraine and not in time. Indeed, many people were worried about his election. But now it is clear that he, as man became quieter, more reserved. While his policy is absolutely normal.
— What policy will trump in the Chinese direction?
— I think even better than before. The Chinese are smart people. They understand that they do not benefit from the conflict with trump and the United States.
— Trump wants to increase spending on the army, to strengthen the nuclear potential of States. It will not lead to an arms race?
— What kind of arms race can be discussed? Spending on the army more than the entire Russian budget. American and Russian weapons pale in comparison. Another thing — China.
That is, in principle, the U.S. does not perceive Russia as a threat?
— Most likely Yes.
— But Russia is still a nuclear camp.
There are many nuclear countries. Pakistan, for example. Nuclear point of view this is a much more formidable country than Russia. They have a longstanding conflict with India, terrorism. In the United States say: "if tomorrow there is a change of power. God knows what will happen."
— Well, North Korea.
— Of course. This is a huge threat. The problem is that Pyongyang himself did not know exactly what he wants to do. Tomorrow he may take a notion in his head to start a war with South Korea or Japan. If North Korea suddenly seems that it is advantageous to attack Japan, they attacked.
— The United States will defend its ally?
— Definitely.

— It would mean a serious world conflict.
Yes. Well, there are very few countries who supported North Korea.

— Will big deal the US and Russia on Syria?
— I doubt it. What trump said during the election campaign, does not mean anything. Now at the disposal of the President of data security services. And he understands that Russia is not a very promising partner.
— And, in fact, Russia has little to offer Trump.
— Of course. What they might be interested in?

— As an option — ground operations in Syria.
Unlikely. After Iraq the United States are tired of world conflict. It is easier to give weapons to Syrian rebels.
— By the way, about the exhaustion of the United States. Trump said the United States should withdraw from world conflicts. But the fact that last decade, your country has played the role of international policeman. In many respects this has hampered the development of many conflicts. Now what?
Even if the United States wanted to isolate itself from the world, they would not have been able. States is a huge country. She will always play an important role, but how is another question.
— If to speak about financial situation of Russia, it depends on energy prices. Trump is gradually starting to fulfil its promises in this area. For example, he allowed the prey in the Gulf of Mexico. This can seriously derail the oil market, right?
— We have a lot of oil, and every couple months we find a new field. For Russia as a country whose economy depends on oil prices is very bad. The price of oil will gradually decline. And people in Russia would live worse and worse. This is the biggest problem for Putin, because the Russian people will be unhappy. And when discontent becomes to be too much, there will be opportunities for the change of power in Russia.
— Cheap oil is one of the main reasons for the actual bankruptcy of the Soviet Union.
Yes. And, of course, the war in Afghanistan. It was the death of the Soviet Union. They didn't have the money to fight.
— Given the not very rosy financial Outlook for Russia if she could go to the surrender of Donbass, the content of which takes a lot of money?
— Yes, it can. I believe now it is not up to the Donbass. Not guaranteed, but likely, over time Russia will understand that the contents of Donbas is too expensive. Very soon Russia will come to the hard economic times.
— What role in the deterioration of the financial situation of Russia are sanctions? It is believed that they are symbolic, and Russia, in fact, they have adapted.
— Do not agree. Sanctions is a very big problem for Russia. Business in Russia is very difficult.
In the beginning of the year were actively discussing a bill Lindsey Graham and John McCain on new sanctions against Russia, which involves the impact on energy, more investment in the oil industry. About this bill forgotten, or even have a chance at acceptance?
— There is a chance. The process of making law is very complex. You need to wait a few months.
Comments
comments