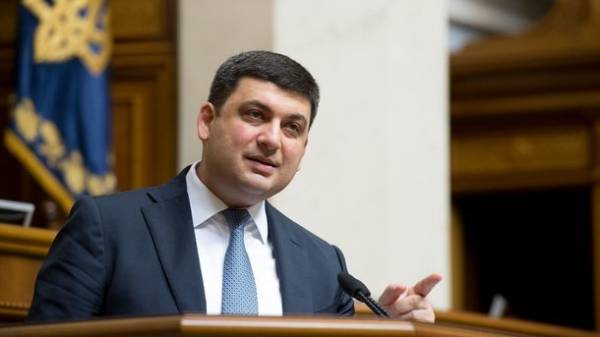 Prime Minister of Ukraine Volodymyr Groysman does not exclude the fact that our government will buy coal from the United States of America, Australia or South Africa.
The head of government said on the evening air of ICTV channel, UKRINFORM reported.
"We are going to buy it for currency. Or United States of America or Australia or South Africa. This is extremely serious," – said Groisman.
He noted that at the time the government of Arseniy Yatsenyuk did a great job, and the government, it continued, in order to make Ukraine independent from Russian gas by the state.
"We have 500 days to live without a drop of Russian gas. We chose the code to get the Ukrainian gas Ukrainian subsoil, and this year, I think we are more than half a billion cubic meters will increase production of its own gas. This means that 500 million we will buy less foreign currency, and this is our energy independence," – said the Prime Minister.
He also once again commented on the situation with "carbon blockade". Groisman believes that many of those carrying out the siege of uncontrolled territories of Donbass, sincerely heart rooting for Ukraine, but their actions have the opposite effect.
We will remind, on December 26, 2016 some of the veterans dobrobatov announced the beginning of the blockade of goods from the so-called "LDNR". Because of this, Ukraine is not getting coal and other goods from the occupied territories.
In January, it was blocked two railway lines in the Luhansk region. In early February, the participants of the blockade blocked the railway crossing near Bakhmut Donetsk region, at the end of the month, they opened the first redoubt on the Mariupol direction.
On 15 February, the government adopted a decree on the introduction of temporary emergency measures in the energy sector for minimizing the use of anthracite coal group.
March 2, at the headquarters of the rally said that the transition to the next stage – the blocking of highways, March 4, representatives of the trade blockade of Donbass opened a new post in the city of Konotop.
On 6 March, the leadership of the militants announced the beginning of deliveries on the territory of Russia of coal with captured Ukrainian mines.
Comments
comments