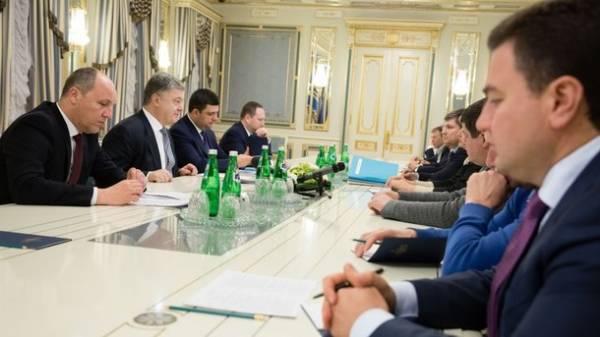 The President of Ukraine Petro Poroshenko during the meeting with leaders of Deputy factions and groups of the Verkhovna Rada proposed to exchange views in connection with the current Ukraine situation, the transfer of the IMF's consideration of the allocation of Ukraine tranche of $1 billion and the issue of allocation to Kiev the second tranche of macro-financial assistance to EUR600 million EU.
"We need to exchange views on the current situation in the country and emerging in connection with the corresponding reaction of the International monetary Fund, European Commission. I think it would be useful for consultations", – said Poroshenko during the meeting in the presidential administration of Ukraine on Monday evening, the press service of the Ukrainian President.
The President expressed hope that the meeting will contribute to the stabilization of the situation.
"I am convinced that today there is the opportunity to realize that potential during this session of the week, which will allow us to stabilize a situation", – said Poroshenko.
As reported, on March 16 the European Commission has approved the second tranche of macro-financial assistance to Ukraine in the amount of EUR600 million, According to information on the website of the European Commission, the payment of the total amount of macro-financial assistance the EU provides to Ukraine in 2014 will amount to EUR2,81 billion, which is the largest volume of macro-financial assistance the EU has provided for countries not member of the EU. This macro-financial assistance is provided to Ukraine for 2.5 years, until January 4, 2018.
The Board of Directors of the IMF because of the blockade of transport communication with the uncontrolled territories in the East of Ukraine has postponed the planned March 20 consideration of the completion of the third review of the EFF program and allocate it the fourth tranche in the amount of $1 billion for an indefinite period.
Comments
comments