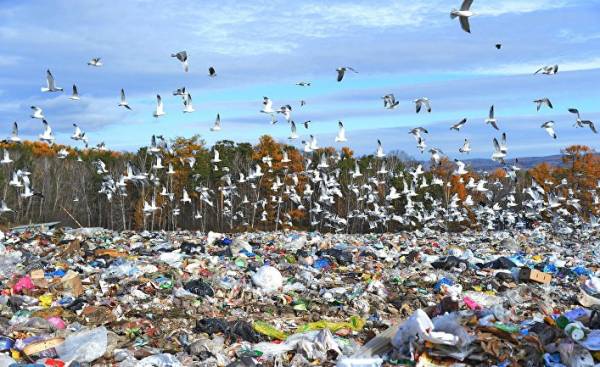 A small jar from under the jam.
There are a few old plastic bus tickets, a hamburger wrapper, and other little things that can not be recycled as secondary raw materials.
In a jar from under the jam is all the garbage that is left from Kristine Ullaland from Bergen from October 2015, says BT Magasinet.
"Many people think it strange that I live this way. I initially had the same reaction. And now I see all the benefits. I became healthier and became more happy and contribute to environmental protection. Life is too short to run to the shops in search of clothes," says Christina, 29.
The lack of garbage has become a movement
"Zero trash" is the name of the movement, which became part of Kristine Ullaland. It spread in social networks in a few years. A quick search on Instagram shows almost 300 thousand photos with the hashtag #zerowaste. Enthusiasts post pictures of food without packaging, shopping clothing, elastic bandages, take-away coffee in metal cups. They don't want to be great consumers and contribute to emissions and environmental issues.
Shops selling food and other products without package, grow like mushrooms in Europe and the United States. Last fall and in Bergen there is an alternative to garbage. A store was opened in Awarene Scottrade.
In the kitchen Christine of Ullaland and her boyfriend on Nygardsgaten you can see large glass jars with tight lids for seeds, lentils, rice and flour, beautifully arranged on a windowsill. Half of piece of bread lies under a glass cover.
Eggs and herbs she keeps in a small basket on the bench. In the fridge are sausages from the butcher on the glass tray. They bought boyfriend. Ullaland only sometimes have a bit of meat and fish, basically it is a vegetarian diet.
"The natural consequence to dispense with the packaging is that I cook from the garden. As a result, I feel better than before," she says.
The problem debris caught her attention while studying in London in 2012. Because the city was not enough dumpsters, she collected packaging and paper in your pack, then get rid of along the way. Christine was shocked to see how much waste have accumulated in just one day. She decided to address this issue and began to search the Internet for alternative solutions.
"At first, I considered myself a supporter of conservation, but it was not so," says Ulland.
Using Google she found a blogger BEU Johnson, an elegant American woman with French roots, which is introduced from among hippies in the middle class the concept of "Zero trash." In her blog she tells how she together with her husband and two sons live without garbage.
Closet Johnson consists mainly of 15 outfits, she makes her own mascara and says that it has never been so happy with life.
Saves huge money
It's too much, thought Kristine Ullaland by reading the blog the first time. But, nevertheless, she decided to try to make compost from food residue. It gradually began to replace the wet cream with olive oil and make your own soap. The process has begun.
"Before, it took me a lot of time walking around the shops. Now I'm more pleased with my old stuff. Besides, I'm saving huge money. This, in turn, allowed me to start my own business," says Ulland.
She is currently developing a certified "Zero waste" for businesses, in addition, she makes presentations about his lifestyle and wrote in his blog.
Last fall when they opened the store Awarene, Kristine Ullaland and other enthusiasts became easier to buy food without plastic packaging.
The store is in a space resembling an old country store. Along one wall are large boxes with oats, popcorn, rye flakes, rice and barley. Olive oil can be poured directly from the iron barrel in the corner. Nuts and spices are on the table, made of beech, who grew up on mount fløyen.
In addition, there are also steel straws for drinking, bulk soap, homemade compost, toothbrushes from bamboo and menstrual cups.
"We want to give people the opportunity to do something concrete to reduce the amount of garbage own garbage. We are talking about getting together to make the first small steps. We need social cohesion to environmental protection," says Anita Buoys (Anita Bui).
Together with the designer Avreage Hilde (Hilde Øvreeide) she owns the recently opened shop, where many customers come for goods with elastic bags, bottles and cans. These two have received enthusiastic support from a number of other enthusiasts.
"Resolved, of course, come without what it is possible to carry goods. We sell some reusable packaging which does not harm the environment. Thus, we save our customers money and protect the environment," says Hilde Average.
Both felt a burning desire to live a more simple life in harmony with the environment when I traveled to Asia. Hilde Avreage found that actually have very little to carry in a backpack to enjoy life. During her visits, she met other fans to travel with a backpack, fascinated by the idea of zero waste.
For Anita Bui, who graduated from the Norwegian school of Economics, the turning point was the meeting with the philosophy of the East in Thailand when she was looking for a career that would have meaning for her.
"I realized that the solution lay in daily life. Shop Romarine is the solution of the urgent need to do something with the vast amount of household waste. For me it is largely about how to use my education to develop business models that benefit society. My parents came as refugees from Vietnam, and I always knew that I was very lucky because I can do something," says Bui.
The owner of the store Awarene don't want to have their case considered as something extraordinary, and strive to create good conditions for their clients.
"We're doing everything we can to residents of Bergen were able to shop without the unnecessary packaging. Few can live a life without waste, but most can do something to reduce their consumption," says Hilde Average.
Own menstrual Cup
Many are outraged when they hear about the so-called menstrual Cup. But environmental effect, according to enthusiasts, is very large. In my lifetime, one woman uses approximately 11 thousand tampons. One menstrual Cup can serve 8-10 years. It is made of silicone and is placed into the vagina to collect menstrual blood. After use, it is sterilized in boiling water.
The store also sells elastic bandage, made from recycled t-shirts. Viscose and hemp make them dense.
"In a world where the sea and nature is filled with plastic, one can make a small step to rectify the situation," says Anita Buoys.
But although this store without the use of packaging is a good environmental event, this concept can hardly arouse the interest of most consumers. After all, they think, according to Mathias Ekström (Mathias Ekström), doctor of the Higher school of trade, only about how to make simple and cheap purchases.
"If the majority is to shop ecologically correct, then the fore the availability and price. But instead of being cheap, environmentally friendly goods are often more expensive than other products," says ekström.
The packaging into which is poured instead of plastic bottles
In the supermarket packaging, which, for example, pour soap, is more expensive than the plastic bottle with the same contents. This can be attributed to the fact that consumers thinking about environmental protection, are willing to pay a higher price for environment-friendly products, while the majority of buyers are taking the cheaper option.
"For a store that's good because you can get a higher price for a product that initially is cheaper to manufacture. But it's bad for the environment because it leads to the fact that fewer buys such products," — said the doctor is cooperating with a research group of The Choice Lab.
Ekström believes that the store Awarene seems like a good company, and Scottrade praises for their creative efforts in Central Bergen.
"But I was under the impression that this store is apparently not consistent with the principles of price and simplicity. Possible positive effect is that it is easier for consumers to determine the amount of purchased goods that can reduce the amount of waste food waste. But this is a slightly different question," he says.
"It is curious that no one is working on packaging. If tap was flowing with milk, most of it quite this circumstance. The difficulty lies in the fact that the products are without packaging is not too available and not cheap enough," says ekström.
Harald Troon-Canvas (Harald Throne-Holst) — scientific Director of the State Institute for the study of consumption (SIFO). He believes that movement is a "Zero drop" can lead to changes in lifestyle, but he also believes that it will be of interest to a relatively small group of people.
"For the majority to begin to live this way would mean a very serious process. However, buying toothpaste in a jar jam – not such a simple thing," — said the head of research.
He thinks about how to mobilize all those who in their own way does little to reduce the amount of waste and climate emissions.
"Nobody can do everything, but everyone can do something. We need to stop to look at small steps as something insignificant. We as a society are largely in the testing phase. For many years we walked in the wrong direction regarding the environment and climate emissions. Now we need small steps to start moving in the right direction," says Troon-Canvas.
But the responsibility for reducing climate emissions is not only consumers. Society should also try to do so, to be able to make the right choice," he says.
"If we want the Earth to have a future, we can't try. If we do not, we will perish," he says.
Family Pool-Skeidsvoll (Aamot-Skeidsvoll) tries. She wants to contribute to improving the environment and reducing climate emissions. Sometimes she manages. As, for example, last week when she was able to put the rest of the garbage in a box from-under milk. Sometimes too many plastic toys and remnants of food. But the members of this family do not make purchases in the store, Awarene. They live in Minda, work outside the center, so for them it is difficult.
Bike to the store
"We find it difficult to travel to town for shopping," says Hedda Maelstrom-Skeidsvoll (Hedda Aamot-Skeidsvoll).
Her husband Odom Einar (Einar Odd) has children Lilly (Lilly) five years, ava (Eva) for eight years and Einar (Einar) eleven years. They lead an active lifestyle in the MINDO and have an interest in the movement of "Zero trash." At the same time they do not think about how to make a list of too difficult tasks. To take your packages to the store, ride to work Cycling and composting in the garden — quite a good deal for working families.
"If very many will be able to do a little, it will have a much greater effect than if someone was able to do very much. This can be, for example, if all families in Bergen will try to reduce the amount of waste per batch in a month. The effect of this will be fantastic," says odd Einar.
Odd Einar, who was 37 years old, is mainly occupied with the opportunity to change their habits. He believes that there are many similarities between the need to start training and to live in greater harmony with the environment.
"The important small steps. If you start very abruptly, then the new habits often begin to disappear. More relaxed and less ambitious start allows to change habits in the long term," says odd Einar.
The couple believes that attention to the whale, which washed ashore near Bergen with 30 plastic bags in the stomach, can help to ensure that many will try to reduce the amount of garbage.
"I really don't understand why almost everything in the store must be Packed in plastic. But if a sufficiently large number will not buy avocados on a plastic substrate, then maybe stores will stop taking them," says Hedda Maelstrom-Skeidsvoll.
Even Kristine Ullaland who lives not leaving behind garbage, buys goods in Awarene, environmental Randuri store and in your store Kiwi. But with a little planning and a private stretch of the packages it goes very well with the purchase of conventional goods.
Despite the fact that she chose your life style, which many consider odd, she agreed with the family in Minda that important small steps.
"Everyone should make their choice based on their own beliefs. I would like to inspire people who are Dating, not pointing the finger. Any change begins at some place and begins, as a rule, small. The desire to change must come from within. Otherwise there's no point," she said.
Christine has simplified my life in almost all areas. The use of clothing has decreased dramatically. Today, about half of what is in her closet — things that are already enjoyed: in particular, the yellow dress that her grandmother bought in the sixties. It is fundamentally trying to buy clothes made from natural fibers.
In contrast to some others, inspired by the movement of "Zero waste", it is a little traveling. Summer vacation last year Ullaland and her boyfriend spent in a tent in Buthelezi.
"It was very cool," she says.
According to the researcher Kjartan Steen-Olsen (Kjartan Steen-Olsen) from the Department of energy and product development of the Norwegian science and technical University, individuals in the transport sector can do more to reduce CO₂ emissions.
"Flying on airplanes are probably the most important private event. The drive is also important. The same applies to everything when it is about to reduce energy costs at home, such as to insulate a house," he says.
But how important is it to reduce the amount of garbage?
"Focus on the sort of sources and reducing the packaging itself is not very conducive to the reduction of gas emissions compared with some other measures. But in terms of what was going on, that is, the total reduction in material consumption, it is highly important," says Steen-Olsen.
He believes that it is important to focus on creating less garbage.
"Any measures that promote the realization that all consumption leads to an increase in press on the environment. Some are critical to this effect, but I believe that is the right way. "Zero waste" can change people's thinking. I don't want to say that all have to do it, but if someone will make such a contribution, it's very good," says the researcher.
From Kristine Ullaland no plans to change his new habits. She found a lifestyle that suits her.
"I regained strength and control as a consumer, instead of advertising sway me. An extraordinarily pleasant feeling," she says.
Comments
comments