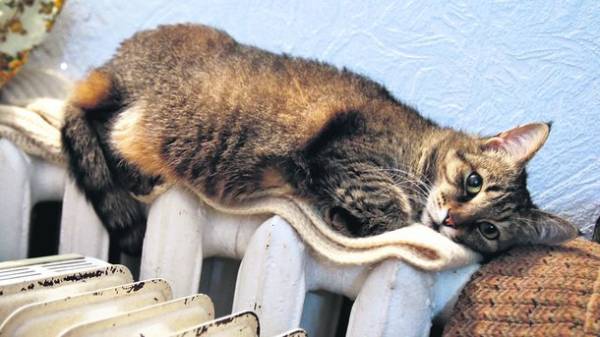 Authorities have promised the Ukrainians a warm in the apartments on the other day — if the country hit freezing. This was stated by Deputy Prime Minister and Minister of RS and housing and communal services Gennady Zubko. He also assured that the shortages of heating will not be as ready for the heating season is 97.6%. Energy experts say that it is urgent to increase the reserves of coal, but weather forecasters promise a cold winter. Freeze will not, but to fork out to pay greater quantity consumed Gcal necessary.
STOCKS. According to information Minenergouglya, in underground gas storages (UGS) have accumulated more than 16 billion cubic meters of gas. The injection continues at high pace — at 56 million cubic meters/day. Energy Minister Igor Nasalik said earlier that by October 1 for guaranteed passing topstone need to pump 17 billion cubic meters of gas. According energoekspert, "margin of safety" gas is good, because in the 2016-2017 season. the UGS was only 14.7 billion cubic meters, and to the end remained 8.4 billion cubic meters (of which technologically unrecoverable reserves of 5 billion cubic meters).
With coal the situation is more complicated. According to the profile Deputy Prime Minister Vladimir Kistion, by mid-October need to save 1.8 million tons of anthracite and 2-2. 2 million tonnes of coal gas marks ("G"). Now we have only 0.5 million tons of hard coal and 1.5 million tons, "G"coal. But on the way another 700 thousand tons of American coal for the state power plants and 150 thousand tons of coal from South Africa for thermal power plants to a private company DTEK.
COSTS. Energoexpert worried about the coal. So, the Director of energy programmes of the Center for world economy and international relations NASU Valentyn Zemlyansky estimated that Ukraine needs 4 million tons, including half of anthracite.
"Due to the shortage of anthracite coal, the mass transfer thermal power plants to coal "G", which we have many, but the government has failed to ensure the increase of its production, and today have a deficit and this coal. The U.S. reserves of anthracite is also not enough, so the authorities need to think how to increase the supply," said Zemlyansky.
Co-chair of the energy strategies Foundation Dmytro Marunych also says that for smooth supply of the country's coal reserves are still very few, moreover, American coal is more expensive by 20% due to the delivery.
"The big problem — consumer debt before the energy industry and "Naftogaz" have exceeded 90 billion, is already seriously threatens the functioning of the industry — told us Marunich. Also, despite the optimism of the authorities was not carried out large-scale modernization of heating systems, they wear out more, so there will be more outages heat because of the breathing tubes".
PROBLEMS. In addition to public power and heat generating enterprises, a major role in stable energy supply of the country play and private entities. Leading among them is DTEK — Donbass fuel-energy company. As reported "Today" in a press-service of the company DTEK is making every effort to enhance the coal thermal power plants in toperiod to maintain a stable energy supply for the nation.
"The company has increased coal production in Ukraine — 8 months the growth amounted to 13%, to 15.2 million tons (the same period of 2016). DTEK also purchased a record volume of coal in South Africa. In Ukraine delivered 375 thousand tons from 675 thousand MT contracted. In the second half of October DTEK expects the arrival of two ships with 150 thousand tons of anthracite from South Africa for energy. The task of power engineers is to ensure uninterrupted and quality power supply in the country. DTEK always responsibly to this issue and working to improve the stability of its thermal power plants", — says the press service.
This year Ukraine has faced the problem of import of anthracite, which previously were delivered with uncontrolled territories. To solve it, from September 2017, DTEK started to implement a program consisting of three key steps to reduce import of coal. Step # 1 — transfer of blocks of thermal power plants with anthracite for the "G"coal. Step 2 — provision of Ukrainian coal thermal power plants production. Step # 3 — upgrading thermal power plant for efficient and uninterrupted operation. With the concerted actions of power and timely supply of fuel for power generating enterprises — NPP, HPP, TPP — preconditions of violation of a stable energy supply there are certain DTEK.
WEATHER. Forecasters this year are predicting an early cold and long winter which will begin in late November. These cycles have lower temperatures in winter, occur every 32 years, and in 2018 it is expected one of these. Likely heavy snowfalls in the Northern regions of snow will fall by a third more than normal — a meter or more. And spring will come only in April.
Monetization from 1 January 2018
Deputy Prime Minister promises Question from 1 January 2018 to enter the monetization of subsidies for housing and utility services. However, the netting service will replace money only for suppliers and legal entities-consumers, not for the population. According to the specialist at the social protection Institute of local development Anton Levitsky, it will give "live" money, including condominiums that are forced to pay their tenants-beneficiaries of the money collected from all residents, but are unable to obtain compensation from the state. Full monetization of subsidies on utility services, the authorities want to implement in 3-5 years.
Comments
comments