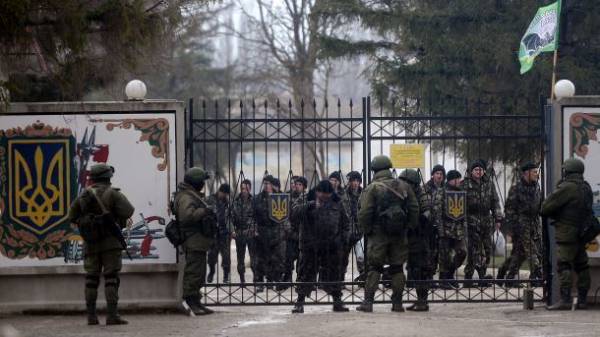 Russia made a big stupidity, taking Ukraine of the territory by force, as it violated previous agreements signed by the Russian President. This was stated on air of radio station "Echo of Moscow" the Russian politician, member of the Political Committee of the Russian party "Yabloko" Lev Shlosberg, reports "Apostrophe".
In his opinion, the annexation of the Peninsula is the biggest mistake of Russia in the XXI century.
"Annexation (annexation. – Ed.) Crimea is a dangerous folly. By attaching the Crimea, our country broke two intergovernmental agreement between Russia and Ukraine. One signed by Boris Yeltsin. Perhaps you are indifferent to it. And the second with the signature of Vladimir Putin. In 1991, we promised Ukraine twice, putting the President's signature and the seal of the Russian state. This is not a joke, " says Schlossberg.
He also confirmed that Russia illegally annexed Crimea, forcing Crimean politicians to vote for resignation of the legitimate government.
"Storm. Gathered deputies. Turned off the stream and at gunpoint forced the people who were in the hall, and there were less than 50 out of 100, that is, in the hall was not even a quorum. To dismiss the legitimate government of Crimea and to put Mr Aksyonov," said Schlossberg, adding that at gunpoint held a referendum.
Crimea was illegally annexed by Russia in March 2014 after the "referendum" is not recognized neither Ukraine nor the world community. Including the "Crimean referendum" does not recognize and the United Nations.
The Verkhovna Rada of Ukraine officially declared on 20 February 2014, the beginning of the temporary occupation of Crimea and Sevastopol by Russia. October 7, 2015 President of Ukraine Petro Poroshenko signed the law. International organizations have recognized the occupation and annexation of Crimea as illegal and have condemned Russia's actions. Western countries have imposed a series of economic sanctions.
After establishing control over Crimea by the Russian occupation authorities on the Peninsula has worsened the situation with human rights, have concluded that not only the Ukrainian ombudsmen, but also international organizations, including PACE.
In turn the international criminal court (the Hague Tribunal) has ruled that Russia's actions during the occupation of Crimea is regarded as a military conflict against Ukraine. In the Hague say that the international conflict can be investigated according to the norms of the Rome Statute.
Comments
comments