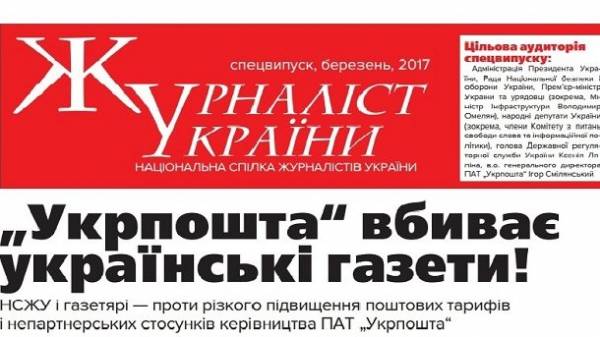 20 March at the National SPLC jurnaltv budesa Ukraine press-conference on which obgovarivaetsya requirements do not enter du in the draft Directive about rzce paviment tariff on primanda the delivery thismany periodicni of drukowanych, vidani for pretplatu. Vdovy project the mandate of aprilynne on Sait Ministerstva infrastrukturi 3 March.
Ocrm tsoho, vpershe for VSI rocky Ukrposhta zablokowali pariahuanca versions of Ukrainian Newspapers koshtiv, atrimana gromadyan od for pretplatu, vidani for 2017 year.
In the framework of the Pres-Konferenz Buda presented a special issue newspaper NUJU, that prisvyacheno problems of quality Newspapers, the arguments of the editors I wydawca-gazetaru schodo niemozliwosc pracowali for zavedenii rates, newtonand pdprimstvo contact'yazku "Ukrposhta" Zobov their commitments before the first editions predmetnikam.
The fate of the press-Conferenc take:
V. O.'s head National splce journalists of Ukraine Sergiy Tomilenko;
The patron of the head editor of the newspaper "Voice of Ukraine" Sergei Demski;
Director of the circulation of the newspaper "Today" Sergei Ohrimenko;
Chief editor of the newspaper "ECHO" (Zhytomyr) Volodymyr Yatskevich.
Zahid budesa 20 March about 11.00 the press center NUJU (m. Kyiv, vul. Khreschatyk, 27A). About their fate, please podoiti at the following address: [email protected]
Comments
comments