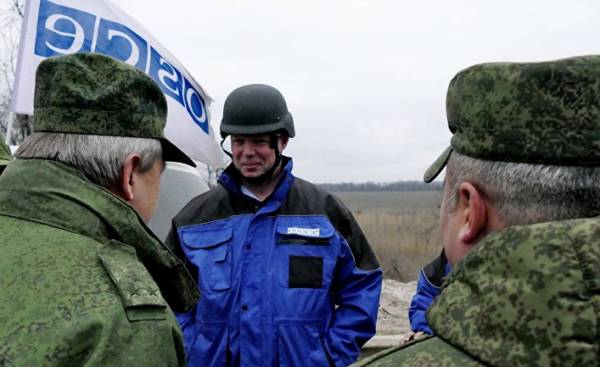 Vice Prime Minister of Ukraine for European and Euro-Atlantic integration Ivanna klympush-Tsintsadze believes that Eastern Ukraine will not be peace if Russia will not withdraw from its territory. And this in the near future is unlikely.
"Russia has just recognized the so-called passport of the so-called people's republics. This is not in keeping with the spirit of the Minsk agreements", — said klympush-Tsintsadze.
The aim of the Minsk agreement for a cease-fire and to achieve peace in Eastern Ukraine.
According to klympush-Tsintsadze, Russia wants to demonstrate its influence in the occupied territories of Eastern Ukraine.
"Now we're dealing with a "USSR 2.0," she says, pointing thereby to the actions of the Soviet Union during the cold war.
She adds that the tactics of Russia is the policy of "divide and rule", not a desire for constructive dialogue.
"The keys to war are in the Kremlin".
Strengthening the role of the OSCE
According to klympush-Tsintsadze, the activities of the OSCE in the East of Ukraine is necessary, though the organization has been criticized. However, she wished to the role of the OSCE has changed.
Vice-Premier considers that the OSCE had access to all the territories of the separatists, in particular, and on the border that is not controlled by.
It also requires that this organization is operated 24/7 and not just during the day.
"Most of the cases of violation of cease-fire going in the evening and night."
In addition, she would like to Eastern Ukraine to resolve the situation carried out a police mission.
"The only option is an international presence in the East," says she about the possibilities of settlement of the situation in the East of Ukraine.
Klympush-Tsintsadze expressed concern over the planned implementation in July of this year, large-scale joint Russian-Belarusian military exercises "West-2017". She hopes that it is only on the demonstration of the power of Russia, and not of aggression.
"The world is really very naive. It was obvious when the so-called "green men" arrived in Crimea".
Klympush-Tsintsadze hoped that the centre to counter hybrid attacks, which is created in Finland, will be able in the future to help identify threats.
"I think that Ukraine in this issue is about what to tell," she says, referring to Russia's military actions in Crimea and Eastern Ukraine.
Hospitable people
In may, Ukraine held a contest. Around Eurovision a lot of noise, in particular, because Russia has expressed doubts about the possibility of organizing a Ukrainian event of this scale. Russia has also announced that it will boycott the Eurovision song contest, but last weekend said that the party selected.
Klympush-Tsintsadze hopes that Eurovision will bring Ukraine hotly desired positive rating.
"We want to show the world the hospitality and friendliness of Ukraine", — she says.
The goal is to tell about the real picture of the country and not only about the war.
Comments
comments