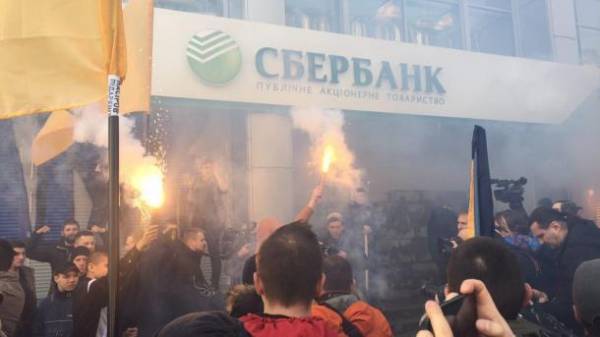 The closure of the Russian banks in Ukraine will harm the domestic economy, while the National Bank has no legal instruments to stop their work. This was stated by the radio station voice of the Capital honored economist of Ukraine, expert on banking issues Igor Polkhovsky.
According to him, Ukraine is not profitable to abandon the Russian banks.
"Let us speak not only about the "Sberbank of Russia", and all of the banks belong to Russians. By and large the sum total of the balance sheet of these banks is of the order of 150 billion. It's somewhere a quarter of all banking assets, which are subsidiary banks of state banks. And if these banks suddenly stop working for the Ukrainian economy it would be very disagreeable, as to some extent stop the turnover of funds in Ukraine", – explained Polkhovsky.
He noted that in Ukraine today there are four banks with the Russian capital – "Prominvestbank", "VTB Bank", "Sberbank of Russia" and "Volksbank", which was previously included in the system of "Sberbank of Russia".
The expert stressed that the NBU has no legal tools to stop these banks
"By and large, to nationalize these banks, too, there is no reason, because there is no law, as it were, for example, on the same Privat. At the moment there is no economic basis under which these banks must comply with all regulations and requirements that apply to them, the NBU and the state of Ukraine. For this reason, there are none. There is a political plane. Here in the political arena – there is a question of politics, but not economy", – said Polkhovsky.
As reported yesterday, the activists of the party "national body" began to block the work of "Sberbank of Russia" in Kiev, concreted one of the Bank building blocks.
On March 10, activists blockade of Donbass and urged the Ukrainian authorities and the state to take action in respect of "Sberbank of Russia" in Ukraine, or they will block the work of the Bank throughout Ukraine.
We will remind, as it became known on March 7, the Russian "Sberbank" has agreed to serve customers with the unrecognized by the international community and Ukraine "passports" so-called "DNR" and "LNR".
In turn, the Minister of internal Affairs Arsen Avakov criticized the actions of the Russian "Sberbank". He said that after that, the Bank can't work in Ukraine and urged the NBU to impose sanctions.
"The question is how much time the National Bank of Ukraine to impose sanctions in respect of "Sberbank of Russia" operating in Ukraine? Consider the immediate reaction of the NBU. Sberbank of Russia must end its work in Ukraine. Let them enjoy a "financial Paradise" for the laws of self-proclaimed "DNR" and "LNR", – Avakov wrote.
Comments
comments