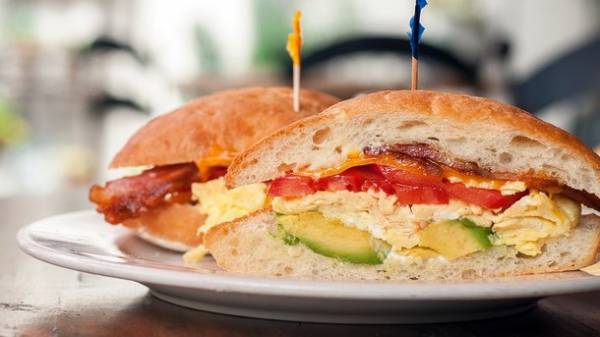 In the morning we need to eat, but cook doesn't want to. For such cases there are a few simple recipes for delicious and hearty sandwiches "in haste", according to paragrams.com.
Sandwich with sausage and cheese
Ingredients:
Baton;
Sausage;
Cheese;
Mayonnaise, ketchup.
Prepare a sandwich with sausage and cheese
In order to prepare this sandwich should be cut into cubes, cheese and sausage, and then mix them with the mayonnaise. On the grill you need to put the pieces of bread, they evenly spread out the mixture of mayonnaise, cheese, sausage and put it in the oven for 15 minutes. After 15 minutes, crispy and tasty sandwiches are ready.
Sandwiches with cheese spread
Ingredients:
Cottage cheese – 200 grams;
Sour cream – 3-4 tablespoons;
Bulgarian pepper (average) ;
Greens;
Salt;
Black pepper;
Garlic – 1 clove;
Bread (or loaf or bread, crackers, matzah).
Prepare sandwiches with cheese spread
Cheese to grind with sour cream (you can just beat with a blender), add to the mix finely diced bell pepper (if pepper will be in color, the sandwiches will turn out prettier), chopped herbs, pepper and garlic, squeezed through a press. All this again mix thoroughly.
SEE ALSO
Recipe of the day: spicy chicken marinated with cucumber
Sliced pieces of bread spread with the mixture and decorate with a slice of fresh cucumber or radishes.
The yolk sandwich with pasta
Ingredients:
Egg yolk boiled – one piece (15 g);
Butter – 4 g;
Wheat bread – 30 g;
Prepare the sandwich with the yolk paste.
Egg yolk should be mixed with softened butter until smooth, to form a "pellet" from the resulting mass and put them on the sliced loaf.
Sandwich "Festive" with sprats
Ingredients:
Bread – 2 slices;
Garlic – 1 clove;
Mayonnaise – 20 g;
Egg – 1 PC;
Pickled cucumber – 2 slices;
Sprats – 4 PCs.
These sandwiches are made a little longer than the previous one, but they are worth it, that would be "tricky". First you need to dry it in the oven sliced bread. After the bread has cooled, grate the garlic, spread with mayonnaise and sprinkle with grated egg yolk. Need to put on top sproty and a slice of fresh cucumber.
Here are the sandwich recipes "in haste" will help you feed the guests and please yourself and your family.
Comments
comments