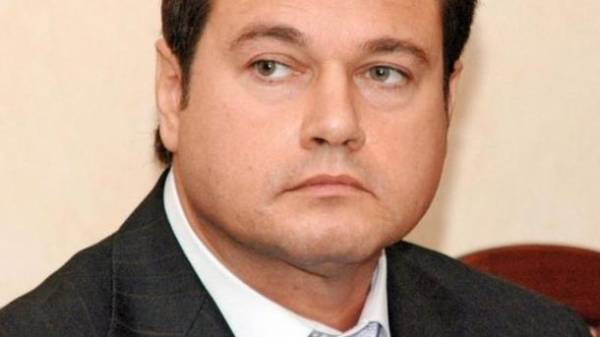 The Prosecutor General's office of Ukraine reported on suspicion of embezzling state property worth 2.3 million dollars to the former Director of state enterprise "ukrhimtransammiak" Victor Bondik. This was announced by Prosecutor General Yury Lutsenko.
"During the investigation of the case, OOO "ukrhimtransammiak" it is reported about suspicion to the former Director Bondik. GPU suspects him that 2007-16 gg he drew funds of state-owned enterprises in favor of Amsterdam trade Bank. Losses previously amount to 2.3 million dollars. Account of the Bondik arrested in Switzerland", – he wrote on his page in Facebook.
As explained in the press service of the GPU, bondik is accused of embezzling state property in especially large sizes on preliminary arrangement by group of persons, that is, in the Commission of a criminal offense under part 5 of article 191 of the Criminal code of Ukraine. The sanction of this article prescribes punishment in the form of imprisonment till 12 years with confiscation of property.
"The pretrial investigation established that the former Director of UGP "ukrhimtransammiak". Bondik, not having a real need, despite the economic irrationality and ignoring the existing profitability of the enterprise, December 22, 2010 intentionally made on behalf of UGP "ukrhimtransammiak" with Amsterdam trade Bank term line of credit in the amount of $ 35 million at an interest rate of 8% for the purpose only of working capital," – said in the message.
In addition, bondik, without having, without prior approval of the Ministry of Finance of Ukraine and with the purpose of concealing embezzlement of funds on the first loan on 23 November 2011 intentionally made on behalf of UGP "ukrhimtransammiak" with Amsterdam trade Bank second term credit lines in the amount of 48.2 million dollars at greater interest rate of 9.25%, including the repayment of the previous loan.
"As a result of such action Bondik only for the period from January 1, 2015 November 15, 2016 Amsterdam trade Bank wrongly paid 2.3 million dollars, according to the National Bank of Ukraine amounted to UAH 58.3 million, as interest for the use of inappropriate and unreasonable loan", – noted in GPU.
Currently, the complex of measures aimed at establishing all the circumstances of the offense, bringing all the perpetrators to trial and ensure the recovery of damages.
Recall that recently the anti-corruption bodies caught the head of the State fiscal service of Ukraine Roman Nasirov in damage to the state 2 billion hryvnia. At the moment, removed from office and is in jail with the possibility to bail in the amount of 100 million UAH.
Comments
comments