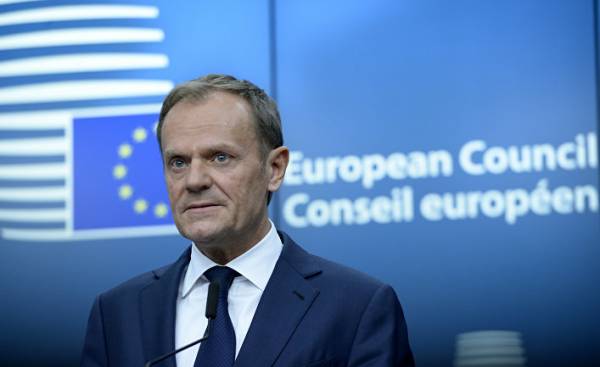 Policy of Poland commented on the re-election of Donald Tusk to head the European Council. Beata Szydlo critically evaluate the choice of the leaders of the EU countries.
The head of the Polish government during the summit in Brussels stated that Donald Tusk would not be a good President of the European Council, and warned against the consequences of such a choice:
"Too bad that the selection was made contrary to the opinion of the state, the descendant of which is the candidate. This is a very dangerous precedent."
The leader of the party "law and justice" Jaroslaw Kaczynski shared the view of the Prime Minister, noting that the head of the European Council elected the man who in recent years have violated many principles, among other things, the principle of neutrality:
"He intervened in Polish domestic Affairs, he did it very violently, and in special situations, in moments of special tension."
Jaroslaw Kaczynski added that thus violated the rule that high office in the European Union policy is supported in his country.
In turn, representatives of the oppositional forces of Poland, in particular, ewa kopacz, which has replaced Donald Tusk as Prime Minister, said that the results of the vote is good news for Poland and Europe:
"I think that after a short period of shame — and the Polish government should be ashamed of what we did in the last days the representatives of the Polish government must begin to strive to maintain good relations with the head of the European Council and to congratulate him, because it is necessary, this is according to European standards."
Congratulations to Donald Tusk has managed to transfer the former President of Poland and leader of the movement "Solidarity" during the Polish people's Republic, Lech Walesa, noting that the confusion around the candidacy of the Tusk adversely affects the image of Poland:
"This has not happened. We've always tried in the international arena to present a common position, to avoid such situations. This is the first time that we show all our strife. It really looks bad from the outside".
Polish MEP, Vice-President of the European Parliament Ryszard Czarnecki said that in the long term the position was taken by Poland, voting against Tusk, on the contrary, a positive impact on the image of the country:
"Poland is thus forced in the future to be reckoned with, forcing other countries to seek a compromise with Poland, to agree with her."
Recall Donald Tusk was elected President of the European Council for a second term. March 9 at the General meeting of 28 countries-EU members expressed their views: the 27 countries voted for Donald Tusk.
Poland was the only country that did not support his candidacy.
Comments
comments