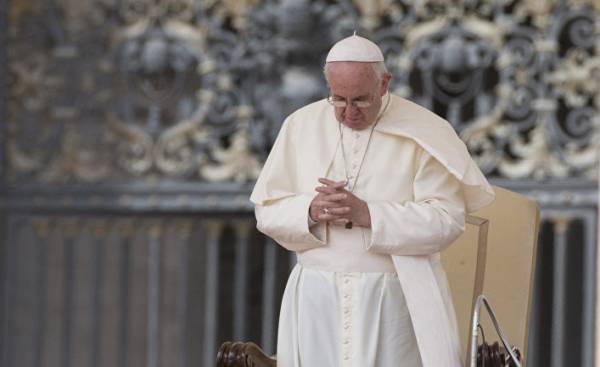 The first interview with a German journalist over a four-year stay of Pope Francis in his post was regarded as a secret matter of national importance. The editor of Die Zeit asked to remain silent, it is best until we will finally meet Dad. After a long preparation, the invitation to conversation from the Pope himself.
The meeting place was in the guest house Santa Marta in the Vatican for talks that could hardly be less representative. Six chairs with green upholstery, sideboard, a portrait of John XXIII, TV. Here Dad takes almost every visitor, as in all other conversations, not even a glass of water. Pope Francis lives on this space for interviews, his bedroom window opens directly onto the wall.
Dad, who last December was 80 years old, speaks slowly, with great concentration and liveliness, but in such a quiet voice that is difficult to follow him to the last nuance.
Held a conversation in Italian was authorised by the Pope, he compared the German translation with the original, which was written by one person. His editing was restrained and not as significant than what we in the editorial office of Die Zeit received, as a rule, when changes to policies.
DIE ZEIT: father in the mid 80-ies of You for a long time were in Germany to write Your dissertation about the priest and the philosopher Guardini Romano (Romano Guardini). Say that then You were absolutely stunned by the painting of the virgin Mary, decoupling the nodes. which was created by the artist of the Baroque period around 1700, and which hung in the Church of St. Peter on Perlach in Augsburg.
Pope Francis: No, that's wrong.
Is it not so?
— I've never been in Augsburg!
I read about it in a very good biography about You.
— I almost said, typical of the press! (laughs) the Story was this: On Christmas, one nun I met in Germany, sent me a birthday card with this picture. The picture I was immediately interested. Not because it was excellent, it was mediocre Baroque.
But it shows an unusual motif: Maria full of knots in a white ribbon in his hands.
— The picture illustrates the phrase of the Church Father Irenaeus of Lyons (Irenäus von Lyon) from the 2nd century. The Creator of the picture had problems with his wife. I don't want to say that they fought, but…
…something was wrong…
— … Yes, something was wrong, but he loved his wife and his wife loved him, and there was no Tiffany's, which could intervene. (laughs) so, the husband sought counsel from a Jesuit priest. He took a long white ribbon, which was used at the wedding of the couple, and prayed to the virgin Mary, because he read in Irenaeus, that the knot of eve's sin will be unleashed by the obedience of Mary. Thus, he asked Madonna about grace to untie the knots.
The nodes in the picture, thus, imply many unsolved problems.
— Yes, and the picture arose in gratitude, because in the end, the mother of God have mercy on this couple.
Both stayed together, and thanks to You, the picture became famous. Thus, with this very beautiful picture began to make other, also not very good copies of: one hangs in Buenos Aires, the other I saw at the Assembly rooms at this guest house in which we now sit. Meanwhile, that picture haunting You!
— You could say that. (laughs) But she was so pleased with me that I started to send postcards with her image.
If You will allow me this confession as a Catholic: for Christmas I was with my eight-year-old daughter on the theatrical depiction of the birth of Christ in our small community in Hamburg is home to Catholics in the Diaspora…
I was once in Hamburg, at the baptism in Wandsbek, in the 80-ies, asked me Argentine compatriots!
My story from Hamburg is happening at present: for this Christmas event on Christmas Eve several times already was not present, the priest that was pretty sad. After that I went to Hamburg to the Archbishop and asked him how is it possible that in a day when so many Catholics never attend Church, there is not present the priest. The Bishop, who was new and quite young, told me that the lack of priests in rural areas where there are few Catholics, even stronger and that he himself does not know how to change it. Our statistics are horrible: fewer believers, fewer priests, more vacancies.
— Yes, this is a big problem. And in Switzerland it looks doesn't matter. In many communities, there is decent women: they support the Sunday services and preach, that is, without the Eucharist. However, the problem of lack of vocation. And this issue the Church must address.
How?
— I think — You notice what I'm saying, too, as a staunch Catholic, by the way, I am also a believer, you know? (laughs) the Lord told us to pray! That's what's missing — prayer. And little work with young people who are looking for orientation. Not enough service for others. Work with young people is complex, but it is necessary because the youth requires it. They lost heavily in modern society, in many countries they have no work.
However, in Germany youth unemployment is not a big problem, it is only 7%.
It is a privilege! But here in Italy, almost 40% of young people under the age of 25 are unemployed. In other European countries almost 50%, and in certain areas of the country almost 60%! Unemployment is a huge problem. In this sense, in Germany and although it looks differently, but there is one problem…
Namely?
— The birth rate.
By European standards we have it low but not lower than in Italy.
— And where there are no young men there, and priests. It is a serious problem which we must address in the next session of the Synod on youth, and it has nothing to do with proselytism. Proselytism has no vocation…
… sorry, but I don't know what proselytizing means.
Is the recruitment of dissidents, as in charitable organizations that recruit members. Then come many young people who have no vocation and who will destroy the Church. It is crucial to the choice. As well as the indignation of the people — as it was You and Your daughter: why there is no priest to celebrate the Eucharist? This weakens the Church, for the Church without the Eucharist is powerless. The vocation of priests is a problem, a huge problem.
So, you need a true vocation that You had shortly before decided to get married?
— But no!
When You were 17…
… but I wasn't going to get married! (laughs)
At least You were engaged, I read about it.
— That's right, we were engaged, but the journalists exaggerate — sorry! (laughs)
So I now double-check!
Is good, all the time tell us something, but I'm quite a normal person. No more unusual than others.
The fact that You say it is unusual.
— Well, okay, maybe not all of me ordinary.
If You want to bet on the young, shouldn't You then create incentives, which are lacking today? For example, tell them that you no longer have to abandon the feelings and love life, if you want to become a priest? Perhaps, as Bishop or as cardinal, but as a priest?
— Voluntary celibacy in this context, talking constantly, especially where there are not enough priests. But voluntary celibacy is not the solution.
But as Viri probati, the "experienced men", who although married, but because of their exemplary Catholic life scale can be ordained deacons?
— We need to think about whether Viri probati one of the possibilities. Then we also need to determine what tasks they can perform, for example, in remote communities.
In remote communities? American conservative cardinal Raymond Burke (Raymond Burke), who is considered to be in the Vatican one of the toughest of Your opponents, You have just sent to the island of GUAM, somewhere in the Pacific — some say they were exiled.
Cardinal Burke went there due to a terrible accident. For this I am very grateful to him. There was a terrible abuse, and he's a brilliant lawyer, but I think he had almost completed the assignment.
Why the Catholic Church is not the right time to undo or mitigate celibate?
The Church is constantly committed to recognize the right moment to know when the Holy Spirit is something that requires. So I say, what about Viri probati will still think.
In some parts of the world the Church is growing, while in others, for example, in Europe, it is declining. Is this meant Joseph Ratzinger (Joseph Ratzinger), the future Pope Benedict, when he said,"the Church of the future will be small"?
— Yes, he said so, and I think it can be taken literally. Most people think that they are believers or agnostics, but do not belong to the Church. However, I do not know how exactly put it Benedict. Of course, you can share his point of view and certainly it is justified, because everything he says, convincingly. He is a great theologian.
After all, he and the German theologian.
— That's it. (laughs)
Gianfranco Ravasi (Gianfranco Ravasi), serially cardinal and President of Your cultural Council, this morning, just hours before our conversation, said in an interview with the Catholic news Agency that he believes it is possible to Dacosta women. Was it agreed with You?
— I want to tell You how it was, because with all due respect there is this information filter called journalists. It was like this: about a year ago I called for all predstoyatelya the order's communities. They arrived and I asked them to instead of formal speeches, which I already have a low opinion, they would ask questions. The dialogue is much stronger, much more humane. One of the questions sounded almost word for word: apparently, in the old Church there were women deacons. Why don't we create a scientific Commission to find out what made these women and whether they were ordained? I said Yes, why not? It would be a good opportunity to explore this topic. They gave me one condition: I must speak with cardinal Muller (former Bishop of Regensburg and the current prefect of the congregation for the doctrine of the faith — approx. the newspaper). I called predstoyatelya and cardinal Muller said: please send me a list of ten men and women who should enter into the composition of the Commission. After that, I on the basis of both lists amounted to the Commission of the most outspoken and competent people. It was about how to study this subject, not to open the door.
And what we found out so far in the study?
One Syrian Professor said: the question is not whether ordained women or not, and that they did. He told me three things: women helped in the baptism, in the anointing of sick women and if any woman complained to the Bishop that she was beaten by her husband, the Bishop sent a woman to the diaconate, to examine the bruises. Let's see what else you will find Commission. As far as I know in March it will meet for the third time, and I will look back to see how things are going.
Your presence will be considered!
Is the task of theology: it must investigate, always to find the essence of things. This also applies to the study of the Scriptures. The historical-critical method: what it meant at the time? What does it mean today? The truth is, to not feel fear. It tells us the historical truth, scientific truth: do not be afraid! It makes us free.
Approximately so says Freud, whom You often quote: you always need to overcome their fears.
— Fear closed the door. Freedom opens. And if freedom is small, then it is in any case will open a small window. (laughs)
In the Catholic Church, at least in the way I imagine it, among clergy and among the faithful there is one topic that almost always bypassed: a personal crisis of faith. Who is at odds with his faith, he remains single. Do not talk about it. How can one help doubters?
In March I will be meeting with Roman priests, and touch on the subject. As a priest, to grow in their faith, and their crises? Without crisis, there is no growth. This applies to all people. Himself biological growth is a crisis. The crisis of a child who is growing up. In faith everything is exactly the same. When Jesus heard how reliable Peter, it reminds me of the numerous Catholic fundamentalist, he said, three times you will deny me. But I'll pray for you. Peter denied Jesus, he was in a severe crisis. And then they made him Pope. (laughs) I don't want to say that the crisis is the daily bread of faith, but faith that would not have survived the crisis to grow out of it, remains infantile.
Do you think that the crisis is a symptom of adult faith?
Yes. Through the crisis of faith becomes an adult.
Once You have acknowledged that in respect of faith in Your life was not only dark spots, but also such even when You were angry at Jesus.
— Some pretty dark moments when I say,"Lord, I don't understand!" And it's not just the moments of internal darkness and confusion, which I blame, my guilt, for I am a sinner, and I fall into anger. But in the meantime, I got used to it. (laughs)
To their own sins?
— No, I no longer lapse into anger. (laughs) My Lord is the Lord of sinners, not the righteous, righteous too, but he loves sinners more. Crisis helps us to grow in faith. Without a crisis we can't grow because of what fills us today, tomorrow there will be more to fill us. The life experiences of each.
But there is not only a great misfortune, there were also personal catastrophe, which cast doubt in the faith. There are moments when even I doubt whether there is a God, there is Jesus. You've experienced it?
Yeah, yeah… (pause) Moments of emptiness… (pause) I was talking about the dark moments and the empty moments. I also know the empty moments.
How to return to the faith?
— Faith is a gift. It is given to people.
She will return by herself?
I'm asking about this, and He answers me. Sooner or later. Sometimes it is necessary to overcome the crisis. Faith is not something that can be purchased.
What is it? It's the power, the joy, the light that You perceive in yourself?
— Yes, that one.
It is also a belief?
— Yes, both. It is light, and conviction, and hermeneutic ability…
… that is, the ability to interpret texts?
— …yeah, to interpret life. Faith is a gift.
It should be a great gift for he who believes, he will find comfort and explanation!
— What Jesus says to those who have faith? All things are possible to him who believes! Says the man who brought his son for healing? Help my neverovatno! This is the way of faith. Faith can be lost. It is a gift that we need to ask anew every day. How often in my life I have sinned because he acted contrary to my faith as an unbeliever. Those are moments of emptiness. We must humbly ask the Lord about faith.
Do You believe man is by nature good or good and bad at the same time?
— The man is the image of God. Good man. But he was weak, he was sorely tempted and was wounded. Kindness of man is wounded kindness.
Does that make people bad?
Bad is something else, much worse. In the mythical story of creation in the First book of Moses describes the fall. But Adam is not evil, he is weak, the devil subjected him to temptation. The first evil deed committed by his son Cain. Cain is not acting out of weakness but out of jealousy, envy and the desire for domination. This is the evil of war, which we meet all those who kill or make weapons. There is a spirit of evil.
At this point You are very specific. Unlike others — including the German theologians, who see in the devil a metaphor, You believe that the devil exists.
— That's right.
How do You imagine the devil?
— I don't know, but sometimes it still complicates my life. According to the faith, the devil is an angel. Fallen angel. And in this I believe.
Do you believe that?
— Yes, that is my faith. In many temptations. with whom I must fight, do not blame the devil, and my personal weaknesses. But to many others he is very likely involved.
Can You give me an example?
— You have to ask my Confessor! (laughs)
What, in Your opinion, are the works of the devil?
— Jealousy, envy, war.
Operation?
Also and operation. Resistance against the works of the Lord, against man as the image of God is the work of the devil. You know, I'm not talking to him.
Is he trying to talk to You?
— It is impossible to talk. Jesus never talked with the devil. He found another way: for the first time when he met him after fasting in the wilderness, he responded not by words, but words from the Bible. With him not talking, because he always wins. He won in the history of creation. The second time Jesus said," Away, Satan!" He drove it away. In the story of Jesus there is no dialogue with the devil. Jesus warns his followers from the worldly spirit, worldly, which for him is the devil, the ruler of the world.
Do we really need to talk with a man who kills and destroys, or when you speak with the devil?
A person can change into a devil, he may even consider himself a devil and sell your soul to him, but he is always the image of God. It cannot be ignored.
Do You believe that God in the end could forgive these mass murderers like Hitler or Stalin?
— I don't know, maybe… I don't know. But I can tell You that I was deeply touched. In the Burgundian town of Vezelay (Vézelay), where it starts the Way of Saint James — is the Basilica of St. Mary Magdalene. There is a cap on one side where you can see the hanged Judas, and the other is the good shepherd who carries him on his shoulders. It was the theology of the middle ages, as taught her by the monks. God forgives to the last.
But it needs to ask for forgiveness?
At least, we need to feel the burden of his sin. I'm not saying that Judas is in heaven and saved. But I'm not saying otherwise. I'm just saying: look at this capital and what he thought the monks of the middle ages who taught the people the catechism for his sculptures. And look at the Bible, which States: when Judas realizes what he did, he is repentant to the chief priests. The Bible uses the word repentance. Maybe he didn't ask for forgiveness, but he repented.
Hopefully, that's the way it was!
— The more God the better.
Do You consider it lawful to pray in their own favor?
— What do You mean?
Well, for example: help me win a football game, make it so that I had enough money to buy the car. You said that it is legal to pray for their faith.
Yes, pray for faith — it's legal.
Where, in Your opinion, the limits of prayer?
— You can ask about the good, for example: help me raise the necessary funds so that I could feed my family this month. It's legal. But pray: make it so that I got a lot of money or more influence — it is illegal. For then ask someone to do something that will lead him into the power of the mundane. Although you can ask about everything, but… During the last supper, Jesus talks with his disciples and said that he prayed about them. And what did he pray? That his Father left them alive, but protected them from the worldly spirit. We should not ask for the worldly spirit, which is the arrogance and oppression, and to ask about the things that create the world, make us brothers, grant peace and good. Pray: help me to kill my wife — obviously falls far short of this.
Mafia sometimes cross themselves before the kill someone.
— It is a disease. It is a disease to use religion, as, for example, some mobsters in South America. They call themselves Christians, and hire a killer to solve a problem. And after that they go to Church.
Although You said above that it is not so often really anger, but You are not outraged by such things?
— A little bit. But much more it disgusts me, if Holy Mother Church, my mother, my bride does not behave as prescribed by the gospel.
In General, the feeling that Christian values today is not so popular. The Western world divided and distant from each other. Populism, especially right on the rise, and new political movements directly attack on parliamentary democracy. How to treat a Christian?
For me, the word populism has always been unclear, as it has in South America a different value. At first I didn't know what to do with it, because I misunderstood it. Populism means to use people, right? Remember 1933, after the defeat of the Weimar Republic. Germany was in despair, weakened by the economic crisis of 1929, and then came this man and said I can I can I can! His name was Adolf. And then it happened. He convinced people that he can. Populism is always in need of the Messiah. And in the justification: we keep the identity of the people!
Maybe because otherwise there really is nothing to admit?
Maybe.
Since almost no also political role models?
— When senior politicians of the postwar period, such as Schumann, Adenauer or dreamed about the unity of Europe, they didn't mean it in a populist, and thought about the brotherhood of Europe — from the Atlantic to the Urals. These people had the gift to serve his country, without exposing themselves to the center, and this made them great leaders. They didn't need to be Messiahs. Populism is angry and ends badly, as shown by the last century.
Do you think that the current situation can be compared to 1933? You might even say that we are in a third world war.
— About world war I talked often, Yes.
That You have thus in mind?
The whole world is at war. Just think about Africa.
But this is a minor conflict.
This is why I say about the third world war, which is gradually expanding. Think about Ukraine, about Asia, about the drama of Sinjar in Iraq, that these poor people who were expelled. Why am I talking about war? As it is with modern weapons. It supports a network of manufacturers weapons. But to be clear: I'm not saying that we are now in the same situation as in 1933. This is absolutely not true. It was only an example to show. what is populism.
If it cannot be compared with 1933: are You concerned about this populism?
European, Yes, a little. What I think about Europe, I expressed in all three of his European speeches. Two were in Strasbourg, and the third upon receipt of the award of Charles the Great. I don't like to accept awards, that's the only one I took. Moreover, just because many insisted and said that it was important that I went to Europe. Then I did it, but my previous speakers Jean-Claude Juncker (Jean-Claude Juncker), Martin Schulz (Martin Schulz) and Donald Tusk (Donald Tusk) and the mayor of Aachen was much tougher than I am. More energetic and energetic.
The then President of the European Parliament Martin Schulz spoke about the refugee crisis and called it an epoch-making challenge, about what European values are shaky, and that therefore, it is time to fight for Europe.
— Yes, they were more courageous than I am.
People's desire for high samples, which are You, today, it seems, stronger than ever. Do You even sometimes feel the pressure of expectations?
— I don't consider myself anyone special. Rather, I believe that I deserve that is an exaggeration. I don't want to say that I am "poor", but I'm quite a normal person who does what he can. So I feel. And if someone knows that say about me, I don't like it.
You say it is not afraid to disappoint many in the Curia who seek to have infallible father?
Is not the father, but only man. All parents are sinners is the grace of God, because only it gives us the courage to give life to this orphaned, bezotcovschina time. I'm a sinner and I make mistakes, and we must not forget that the idealization of a person is an invisible form of aggression. If I idealized, I have a feeling that I was attacked.
Is it the aggression that the sample is not entitled to mistakes?
— Yes, that too. It is not my place to be a sinner who commits mistakes.
Do You feel the attacks on himself from the Vatican?
— No. I want to be honest: ever since I was elected Pope, I have not lost my mind. I can understand that some don't like the way I do with some things, this is perfectly normal. Everyone is entitled to their opinion. It is legal, humane and enriching.
Enrich and whether the posters, which appeared in Rome and blaming You that You are uncharitable and do not listen to the opinion of his fellow cardinals, or a fake issue of the Osservatore Romano in which You on all the questions for You to answer only "Yes" or "no"?
— Fake release'osservatore Romano enriching, but the Roman dialect of the posters were great. Wrote it not some street author, and a clever head.
Someone from the Vatican?
— No, I say: a clever head. (laughs) anyway, it was great!
It's great You can laugh about it!
— Well, of course. There is a prayer attributed to Thomas Mora and I read every day: "Lord, give me a sense of humor!" The Lord preserve my soul and gives me a great sense of humor. Though I'm still not the same as a wonderful father, Kolvenbach (Kolvenbach), who for 25 years was a General of the Jesuits, and died in the last year. He could sincerely laugh at yourself and others, even to laugh at himself, but always in a constructive and positive spirit.
But whether such criticism when You as a Dad have to say:" Basta, that's enough!"
— I already many times said "Basta!"
And it worked?
— Yes, worked.
Also on cardinal Burke?
— I don't consider cardinal Burke as a rival.
There is one story that is quite difficult to tell, but it can be reduced to the essence: the order of Malta is a German Grand Chancellor Albrecht von Boeselager (Albrecht von Boeselager). It criticized the fact that he prevented the distribution of condoms to prevent HIV during one charity project in Myanmar. Then he was fired one protégé of cardinal Burke. You reversed the dismissal Boeselager and instead asked to resign protege of Burke.
— The problem is the order of Malta, rather, was that cardinal Burke could not do it, because he no longer acted alone. I'm not deprived of his title of patron. He is still the patron of the Maltese order, however, we are talking about how to put things in order a little order. And so I sent one delegate, which has a different charisma than Burke.
And charisma is a gift or something you can buy at a time? Your charisma is a gift of God or You owe her heavy and beautiful periods of Your life?
It is possible that this is connected with the life, it gives man the possibility of growth. The question is, do I need to thank yourself when you turn 40 or 50 years, or is a gift of God? This and that, and more. And as I said, I never held his peace, and I ask you to give me a sense of humor which is a gift of God for life is beautiful!
Life is beautiful! You've seen the movie, Roberto Benigni (Roberto Benigni)?
— Yes, but I didn't like that the camps were very well behaved and clean. In these camps it was different. But it was only a movie. Anyway, the message was right.
The Catholic Church in Germany, Evangelical Church in Germany and the outgoing Federal President invited You to visit our country in 2017, the year of Luther. You coming?
— I was invited by the Chancellor. But this year, it will be hard, planned so many trips. To address this problem in advance, I last year went to the Lutherans in the Swedish Lund to mark the beginning of the commemorative year of the reformation and the 50th anniversary of the Catholic-Protestant dialogue. This year the schedule of these sessions very intense.
Maybe there are countries that it is more important to You, such as Russia, China or India?
— I can't go to Russia, because then I would have to go also to Ukraine. Much more important would be the visit to South Sudan, but I don't think that's possible. Was also planned the trip to Congo, but Kabila is unlikely to succeed. Then in the program remain India, Bangladesh and Colombia, one day is for the town of fátima in Portugal, and as far as I know, there are study tour to Egypt. Looks like a filled calendar, isn't it?
Yes. So, You probably will not be able to come to Germany in 2018.
I don't know yet, nothing planned.
Many in Germany sorry to hear it. You should have seen the President of the Council of the Evangelical Church in Germany, Heinrich Bedford-Strom (Heinrich Bedford-Strohm) after You met. He seemed so inspired!
— He's a good man. He (enters in German) fire in the heart.
Thereby You have made him a great compliment: it is particularly hot we have not yet considered.
During our personal conversation, he spoke German, I said (goes in German): "slowly, please, slowly!"
But You understand German?
— If you speak slowly, Yes, but (switches to German) without practice I have forgotten it.
I brought You something in German — translation of the prayer of St. Francis of Assisi, my namesake: the world. Can I Get it to show?
He takes it up and reads. In one place he stopped and pointed a finger at the line:" Lord, make it so that I tried not to loved me and I loved it."
— This touches me. It is important to me. Can I take this with me?
Dad takes prayer.
I thank You for this interview!
— I thank You and forgive me please if I failed to meet Your expectations.
This can not be considered.
— Pray for me!
Interview was conducted by Giovanni Di Lorenzo (Giovanni Di Lorenzo).
Comments
comments