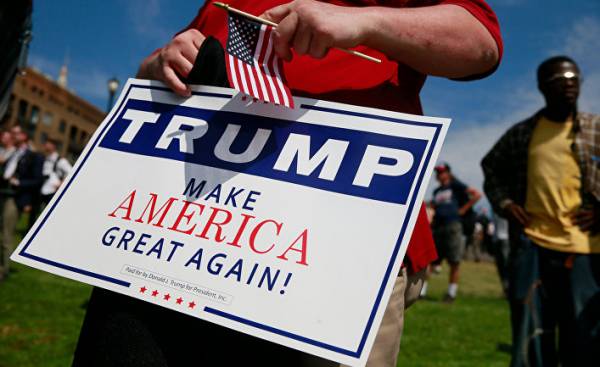 In November last year, when presidential elections are over in the US, the stock market began a rapid growth. One of the fundamental reasons for this drop were the assumptions of investors that the new President trump will cancel anti-Russian sanctions.
However, in reality everything happened exactly the opposite. According to the report of the American Quartz in February, the index of the Moscow interbank currency exchange (Micex) has fallen by a maximum value of 9%. For comparison, the index on the U.S. stock exchanges during the same period increased by 5.7%.
It is obvious that today the new American President trump until he started to prove his good attitude to Russia, so the positive situation on the stock markets of Russia is only a short-term phenomenon.
Since trump became President of the United States, everywhere there are assumptions about his "backroom deals" with Putin. Since January, when Obama accused Russia of meddling in the US elections and before the controversial resignation of national security Advisor Michael Flynn, who is accused of concealing information about conversations with the Russian Ambassador, in the course of trump's improvement of relations with Russia there was a sharp turn. According to the official White house spokesman Sean Spicer, trump was "incredibly hard line" against Moscow.
Along with that tramp from time to time Putin expressed praise. Especially hot discussion was caused by his comment about Putin's decision not to accept response was initiated by Obama, the expulsion of Russian diplomats from the United States: "I always knew he was very smart." Many believe that two strong character to the personality of Putin and trump will be able to find a common language in a personal communication that can lay a strong base for the improvement of Russian-American relations. Some make assumptions about whether the Russian-American Union in the future lead to the isolation of China. Various guesses give rise to further doubt about the volatile relationship between America and Russia.
Within one century, China, America and Russia always was the allies, then enemies. Generally, international relations in the West can be described in one famous saying: there are no permanent interests, no permanent friends. Trump, being extremely "unstable" President of the United States, opens a new facet in the relationship of "strategic triangle" of the three powers. In this regard, the international think tank the Phoenix has created a special section on "China-America-Russia", which analyses the new changes and the possible prospects of a "three kingdoms" in the relations of the three powers. ("Three kingdoms" is a classic Chinese novel that tells about the events of a protracted and bloody wars of the late second and third centuries, when the Han Empire was divided into three States: Wei, Shu and Wu — approx. TRANS.).
We present our readers an interview of an economist, financier, Director of the Economic policy program of the Carnegie Moscow Center Andrei Movchan on the future development of Russian-American relations and the possibility of an Alliance between Russia and America.
In an interview with the International think tank the Phoenix Andrei Movchan said that the choice to install or not allied relations with Russia completely trump the interests of America. Trump may not like Obama too much to put Russia criticism. Moreover, he believes that the policy toward Russia the Obama administration has lost, and, moreover, helped Putin to gain even more support within the country and consolidated his power. In regard to the problem of hacker attacks trump is of the view that they were initiated by the commercial market rather than an indication of the Kremlin.
"Anti-Russian" or "Pro" trump has the final word
International brain center Phoenix: Some believe that in the event of a rise in Russian-Chinese relations China will be in a difficult position. This means that China may be insulated "by the Russian-American Union." Do You think that when the trump of Russia and China will manage to maintain a positive development trend?
Andrei Movchan: Very much indicates that economic relations between Russia and America on a number of natural causes are quite weak. Russia and America are very poorly complement each other from an economic point of view. In many of the leading spheres of the Russian economy, for example, oil and gas transportation to Europe, there is fierce competition with America. Russian ruling party can blame America in their internal problems. Even if America wants to develop with Russia, economic cooperation between these countries, there is no sphere in which to exchange. What can be said about America and China. In addition, out of trump's statements we see that he is against all forms of unions. His policy can only support best America partnership. This is not like previous US presidents, all trying to confront Russia. He chooses between cooperation and confrontation, taking as starting point the interests of America. And it is logical. On the other hand, the volume of trade between China and America 10 times more volume of trade between China and Russia, and the volume of trade between Russia and America is 1/15 part of the growth of trade between China and America. Speaking of China and America as two major trading powers, Russia and near them a small economy. So, in my opinion, America should not leave China and to conclude an Alliance with such a weak and unreliable partner such as Russia.
— Many analysts believe that Putin and trump are trying to improve Russian-American relations. However, a long time between the two countries existed distrust, and this complicates the situation. As You look at this problem? Do You know what specific measures will apply to Russian and American leaders to achieve our objectives?
As I've said before, trump is not yet able to rationally assess the degree of importance of Russian-American relations. It can support the best American cooperation, you may discard the unnecessary and useless partners. But with specific regard to Russia, it is, of course, abandon unnecessary confrontation. This is confirmed by his words: "Let Russia do what they want as long as it's not detrimental to our interests" ("let Russia do whatever it wants unless it hurts our interests"). At the same time, in all that concerns the interests of America, it remains more rigid. Given this position, we can assume that trump may resort to more extreme anti-Russian measures.
— It is well known that Putin is very hard that is clearly readable and his character, and in politics. What do You think, to what extent and how his character can affect Russian-American relations? And if trump and Putin find a common language and establish good interpersonal relationships?
Continued observations show that Putin may be tough only when he is confronted with stiff resistance. Its main strategy is not in opposition to, and in the assessment of benefits. He is looking for weakness, looking for support and the threat. This behavior may Trump is very close, but not yet affect the interests of America itself.
In relations with Russia trump will not be like Obama "to pry into other people's business" and just be afraid
— At the beginning of his reign, Obama also tried to improve relations with Russia, but obviously failed. Why do You think it happened, and how can You evaluate Obama's policy towards Russia?
— The Obama administration had its own subjective assessment of what is happening, and this so-called "political correctness". When it seemed that another state is committing a "mistake", they considered it their duty to oppose him. And if somewhere in the world, the unrest, they also believed that it harms their interests and boldly interfered. However, this opposition itself is very weak because the Obama administration is very afraid of the victims. They did not want to sacrifice their interests in exchange for a successful confrontation. In the end, it was necessary to take at least some action, and in most cases they stayed in the word and useless sanctions. One example of this is Russia.
Under Obama Russia often wanted to shame, Russian-American relations were very strained. At the same time, Russia has preserved social stability. This helped Putin consolidate power, as many issues he can put the blame on a confrontation with America. It also helped him to raise domestic approval rating by the population.
However, trump unlike Obama is not the one who "sticks his nose in other people's business", with the exception of those cases when the other side violates the interests of America. On the other hand, if to intervene in the interests of the United States, trump can always cause more hard hitting, and he is willing to sacrifice in order to protect the interests of America. I think Russia is fully aware of this, so in relations with America it will adopt a more flexible policy.
— What do You think, will the new cybersecurity object of intense interest in Russian-American relations? Will we see a fierce competition between countries? In what areas will be the most closely? What will be the most serious obstacle?
We need to recognize that even if Russia and America there is no close economic ties, the Russian economy is still very dependent on America. This is mainly because international trade tied to the U.S. currency and U.S. banks. It is also important to consider the import of the loyal partner of the United States and the EU. The likelihood that America will strike a devastating blow to Russia is very small, except in the case if Russia wants to go the way of Iran. However, it is hardly possible, as the Russians still want to buy in Europe and America villas, to send their children there to get an education and keep the money in Swiss banks.
Russia will not dare to throw frivolous challenge to America and choose to cooperate with it (of Course, if America will help Russia enough credit). With regard to cybersecurity in America and Europe there are a number of Russian hackers. Their goal is to engage America in cooperation with Russia in the field of network intelligence, to become partners.
What is "Grand strategy" of Putin?
— How You consider, whether Putin's "Grand strategy" that permeates his entire policy? Whether Putin will be able to change the core of their strategy is influenced by politics trump?
It seems to me, the task of Putin throughout his reign was to strengthen the power, to maintain political stability and in the end successfully transmit this power to the person whom he fully trusts. Any policy serves this purpose. Economic Affairs, international situation and other indicators to help measure the effectiveness of the policy. Putin aims to enlist the support of the population. It is equally important to enlist the support of elites and to share with them the income from the export of minerals. To the extent possible, he seeks to win international support and to limit the influence of the international community in the internal Affairs of Russia. In addition, it is important to maintain the stability of the market, develop market self-regulation and at the same time, to preserve the economic structure in the center of which are energy resources.
In a sense, these tasks and their achievement does not include specific foreign policy and does not contribute to economic prosperity. Unlikely trump will greatly affect the strategy of Putin, but the reputation of trump as a "strong personality" can force Putin to listen more to the interests of America.
Comments
comments