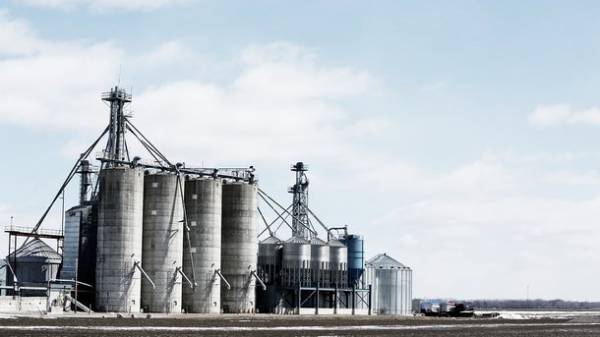 At the beginning of March in the underground gas storages (UGS) of Ukraine remain the largest reserves of natural gas in Europe. About it reports a press-service NAK "Naftogaz Ukraine".
"This is another indication that we were ready for more cold winter, and a frosty March", – noted in "Naftogaz".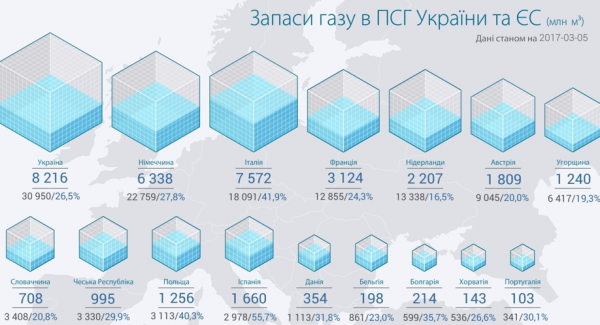 Infographics: a press-service NAK "Naftogaz Ukraine"
In "Naftogaz" reported that, so another heating season, Ukraine is completing without purchasing the "blue fuel" from the Russian "Gazprom".
"Gas independence from Russia is confirmed," reads the message.
As you know, Ukraine does not agree with the requirement of "take or pay" principle, spelled out in the contract with "Gazprom" from 2009, and challenges this item in the Stockholm arbitration. Moreover, "Naftogaz" more than a year ago (according to the NAC, 468 days ago) stopped purchasing gas from "Gazprom" gas from the Russian Federation Ukraine buys from November 25, 2015.
We recall that earlier Ukraine in the cold days of January, despite predictions, hasn't exceeded the daily withdrawal from storage facilities in the amount of 100 million cubic meters, although technologically possible rise of about 1% of existing inventory. The maximum of this year was reached on January 7 – 89,65 million cubic meters.
According to the calculations of the NAC, at the end of the heating season in the vaults will still be 7-8 billion cubic meters with an acceptable value of 5 billion cubic meters of the Ukrainian hydrometeorological center predicts that the heating season, from the point of view of the temperature conditions in Ukraine lasts 160-180 days.
Comments
comments