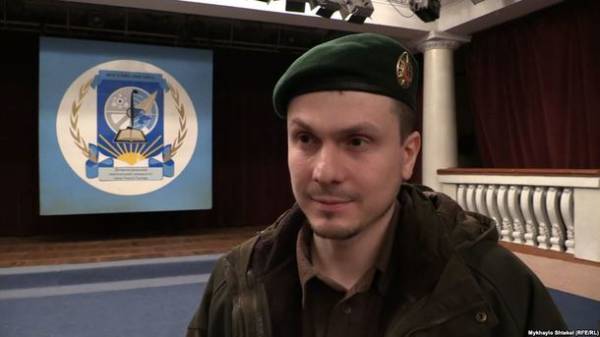 The situation with the attempt on the life of Adam Osmayev and Amine, AquaWay is resonant and can acquire various rumors and inaccurate speculation. This was stated by the commander of the peacekeeping battalion named after Sheikh Mansur Amir Muslim Cheberloevsky, reports TSN.
"Now all the media – and our and their will to undermine this situation because it is such a news, will all pull there-here. Adam and their unit was in a great relationship. What we have divided is not because we fell out, this was nothing. They have been in our parts, our guys went there, often called up and asked if help is needed – at any time ready to help. And we need to be – we'll call you. So it was nothing. Maybe anyone is interested to escalate this situation", – commented on Muslim rumors about the alleged conflict among the Chechens who are fighting in the Donbass on the side of the Ukrainian army.
The reason why there was a division, commander of a volunteer unit does not call – only emphasizes that his battalion remained on the front, and the sister battalion behalf of Dzhokhar Dudayev promised to return in the event of increased hostilities. "That's their business. We are volunteers, they are volunteers. My aim before the end to beat the enemy and win. Not to leave, that I won and all, I'm already retired. I am 26 years of war with Russia. I didn't finish the war. My Chechnya occupied by the Russians. Kadyrov mode now protects 100 thousand Russian soldiers on the territory of Chechnya. I do not think many in Dagestan, Ingushetia, Kabardino-Balkaria, and North Ossetia. We have been and will go to the end. They have there own reasons, I don't know, I didn't ask. But they always talked on the phone: if something aktiviziruyutsya… Because a truce, we went and here are some of their Affairs. We are at the forefront and not going to the rear, or on vacation – anywhere," explained Muslim.
He added that the division occurred even before the death of ISA Munayev in February 2015 in debaltseve. "We split up not long after the death of' ISA. ISA was alive, it was in Dnepropetrovsk, we sat down, discussed my vision, he's got his, wished each other luck and split up. After a few months the ISA was killed. With Adam there was no movement, on the contrary, when ISA died, we got there, helped, than could. We split up to stretch, not to be in the same place that the enemy does not make it easier to find us in one place. The more rasstanemsya – the more difficult it will be," – said the battalion commander named Sheikh Mansur.
"We are one. Chechens and so little, why should we quarrel. There we have traitors enough, if we are to fight well, which is already on. Therefore, this can not be at all. Moving to victory every day. Slowly, but moving," added the volunteer.
According to Muslim, attempted Osmayev was interested in only one side. "FSB of the Russian Federation such tactics to do something, and the traces of the threads below there stretched on all sides, and others squabbled among themselves for this reason. Therefore, we closely follow these events, the guys from Kiev, Odessa pulled back under our hospital that they were there. What we have is sat down, drank tea, and everything. Even if there were any questions, they are very easy to solve. We together with the Ukrainian volunteer army fighting against Rusnya, against the common enemy – everything! Most importantly, and something that any minor issues is not a topic to discuss on TV. That's every day there are any issues or something… And the enemy is he such a tactic, they many times around the world and in Turkey and Azerbaijan, and in Europe – are sending their hitmen to kill and very other people it all hang", – he explained.
Cheberloevsky argues that such a turn of events ready for everyone who has been on the path of struggle with the Kremlin. "What happened – we knew and we know on what road, and expected it every day. Well, where it will arrive – no one knows. Therefore, we wish Adam a speedy recovery. It is the Holy month Romodan – I think the Almighty will help him and cure, and in the near future he will be back in its place. Well, that left the killer alive – for once, perhaps we will find some strings or traces. We're glad that he survived," – said the commander of the Chechen battalion.
Muslim explained that to protect themselves from such attacks can only be a thorough check of all the contacts, trying to arrange a meeting. "When we see someone coming, we check the times of 1200, who, where, what is where. We are fishing rods casting every day hundreds of times: volunteers, journalists, volunteers, sympathizers, just come to watch. We do not accept people you don't know at least 95%. You have to be careful. When the war ends, we win – then we make films, take pictures. Not yet time," he said. And admits that the attacker Osmayev had not previously seen or would recognize him as the agent of the Kremlin, at a chance meeting. "No, I haven't even heard of until that time. In General," said Cheberloevsky.
International peacekeeping battalion named after Sheikh Mansur is a non – governmental voluntary armed formation that is involved in the war in the East of Ukraine and consists mostly of Chechens who emigrated from Russia after the Russian-Chechen wars. The battalion fought in the units AQL PS. It is named in honor of the leader of the Caucasian highlanders in the late eighteenth century Sheikh Mansur.
Comments
comments