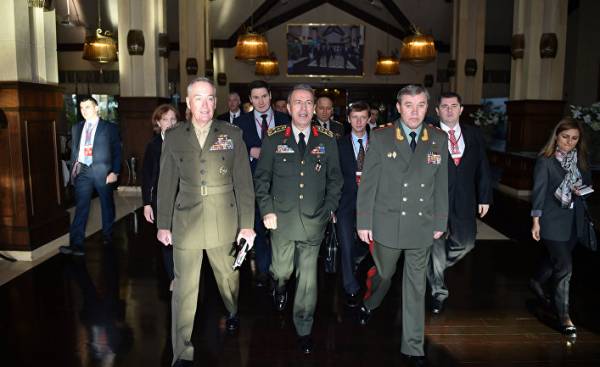 The chief of the Turkish General staff, army General Hulusi Akar (by Hulusi Akar) met in Antalya with the head of the joint chiefs of staff U.S. army, General Joseph Dunford (Joseph Dunford) and chief of General staff of armed forces of Russia, army General Valery Gerasimov.
Meeting in Antalya aimed at enhancing cooperation between these two countries in the Iraqi and Syrian issues. In a statement, the Turkish armed forces on this subject noted: "the meeting discussed General issues related to regional security, particularly developments in Syria and Iraq."
Details discussed and actions planned by these countries plans we'll leave to one side.
Talk about what place this meeting is in the current balance of international politics.
On the one hand, relations between the US and Russia are passing through an unprecedented crisis.
In the US there is a war between "establishment" or as many say, the deep state and the President. Russia — in the center of this war. There are proponents of the view that the political career of the President of the United States Donald trump is seriously threatened. And those who believe that trump will not be able to finish his term and even his will to judge.
While trump maintains that the CIA and the remnants of the Obama administration plotting for his overthrow, the opposition has accused trump of engaging in unauthorized contacts with Russia. And Wikileaks, organic connection with the Russian intelligence irrefutable, publishes a new wave of "revelations" about the CIA.
On the one hand, the US and Russia over Syrian table trying to reach agreement, on the other hand, are complex war intelligence do not differ from the detective stories of the cold war.
Ankara is aware of all this tension. And looks strong in the midst of all this uncertainty. It intends to keep the role of a mediator in the Syrian issue between the U.S. ally, with which it associates a problematic marriage, and an opponent, but the other — Russia.
The Turkish operation "Shield of the Euphrates" is under the influence of teeming with uncertainties, tensions between Russia and the United States. On the one hand, Turkey is experiencing differences with the US on the question of the Party "Democratic Union" (PYD) and Raqqa, with the other sees the unpleasant consequences of the Union Russia — the Syrian regime — PYD.
Comments
comments