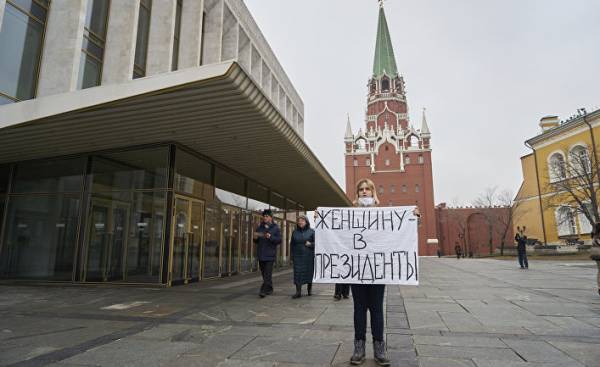 On Wednesday, during a modest rally away from the center of Moscow, the activists were protesting against the "violations of women's rights" in the country.
In Moscow, where Brezhnev decree from 1966, the day of March 8 became a non-working day, no marches for the protection of women's rights is not allowed. On Wednesday, the Kremlin had detained a small group of feminists with fireworks in their hands and posters with the inscription "a Woman for President!". Group "Women's strike" organized a small rally in Sokolniki Park, away from the city center. Tatyana Sukhareva expected to take part in it, wearing a pink swimming cap, which sent her friend from England.
Ex-candidate to the Moscow city Duma, the feminist with a strong character is still under house arrest. "I was held in prison for eight months after his arrest based on trumped-up charges in commercial transactions, at a time when I had planned to take part in the elections to the Moscow city Duma, — said Tatiana. I was beaten during interrogation, three times I was on a hunger strike and eventually wrote the book "Life on the other side of justice."
Today's performance of the Russian feminist Tatyana describes as "a besieged military camp (…) constantly under attack leaders of the Russian Orthodox Church and Muslims do not have access to the media," and whose activity is limited to the Internet. "Any attempt to create a movement or party of feminists faced with obstacles, she said. I'm trying to register NGOs, but the Ministry of justice denied me for the third time on the grounds that its Statute included such words as "feminism", "gender" and "equality"".
40% of violent crimes are committed in the family
Its modest rally in Sokolniki activists intend to protest against "violations of women's rights" in Russia. The latter emphasize that these violations are expressed in the recent adoption of the law on decriminalization of battery not resulting in hospitalization. The controversial law was perceived as a retrograde signal in a country where 40% of violent crimes are committed in the family.
To organize and get permission for this little demonstration, "organizers were forced to call it "the demonstration in defense of family values"" — sighs Tatyana Sukhareva. — Recently against women adopted several discriminatory laws such as the "law of sadists", which allows the use of physical force against prisoners, while the number of women who find themselves behind bars, growing."
The growing influence of the Orthodox Church in society and radical Islam in a country that has 20 million Muslims, are very concerned about the Russian activists who condemned the attempts to restrict the right to abortion. It is also of concern and the growing number of "honour crimes" in some Southern regions.
Comments
comments