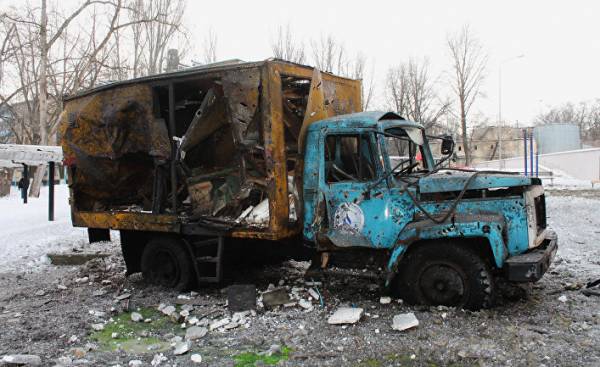 In Avdiivka since the end of January there was no de-escalation. There was a small break, reducing the intensity of attacks. During the first week of January — beginning of February, when I went to the escalation, the insurgents had little ammunition left. In this regard, they had to investigate because on paper was one thing the amount of expenditure of ammunition, and in reality, the attacks were much more intense. The reason for this was the lack of information. The overexpenditure was such that the gunmen asked for the Russian command to urgently restock ammo not only at the forefront, but on the bases. According to our data, for the urgent resupply of fighters on Donbass, it was decided to use reserves of the southern military district of Russia. Only this situation was attributed until recently to decrease the intensity of attacks by militants, and it concerns not only the Town, but other areas too — Dokuchaevsk, Svetlodarsk arc coastal areas.
The second factor that influenced the greater or lesser intensity of the enemy fire is regrouping force of fighters. It was essential that the OSCE recorded movement, in particular, the heavy weapons of the militants in the ATO area.
Regarding their further actions, the plan here is quite obvious. The attempts of the Russians are now using their minions in Lugansk and Donetsk to speak about the troops, the readiness to fulfill the Minsk agreements, as was stated dozens of times, it's just a cover to Russia and further accused Ukraine of the fact that she breaks the "Minsk". Like, we withdraw the troops, we all do. At the same time they carry out completely different actions is the opposite: continue the attacks, carried out trying to advance on the tactical scale. We are talking about nothing more than information operations, for which costs nothing, except the desire restless Putin all the sins blamed on Kiev and accused Ukraine of disrupting the "Minsk".
All this escalation is only the beginning. Berries we will reap in April. Now Russia on the channels try to destabilize the situation in Ukraine. And April is very appropriate for this month, because then it ends the immunity of the government Groisman. For Moscow it is important now that the anarchy in Ukraine which was to turn into complete anarchy, and to use the unstable situation in our country. In these circumstances, the first question that Russia will ask Western community, why help Ukraine, because there is anarchy. The goal is simple — to remove from itself suspicions and sanctions, and the responsibility to put the blame on Kiev.
Dmitry Tymchuk, the coordinator of group "Information resistance", especially for "Apostrophe".
Comments
comments