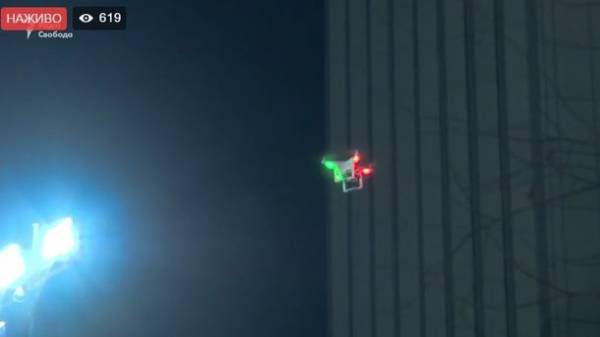 Outside the court where ousted the head of the SFS Roman Nasirov, unknown drone in the air .
Drone tries to look into the window of the courtroom, reports "Radio Freedom".
Meanwhile, MP Mustafa Nayem reported that a group of MPs will be here until the court session on election of a measure of restraint Nasirova, which will begin at 9: 30.
Meanwhile, activists continue to picket the Solomensky district court of Kyiv, which is now suspended Chairman, GFS Roman Nasirov.
The number of protesters decreased slightly. Now at the entrance to the court there are about a hundred activists. As before, the cars of automaidan block away from the courthouse. They brought a generator, which turned the music on and set the table with tea.
Several dozen people are still around the courthouse, they're guarding all the exits and exits of the courthouse.
We will remind, at midnight on March 6 expired 72 hours allotted by the law for the detention of the head of the SFS of the Roman Nasirov.
The court never chose a measure of restraint to the chief attorney of Ukraine, the NAB stated that the new suspect to the Nasirova no.
Thus, prosecutors SAP, the employees of the NABU and the doctors had already left the courthouse.
One of the lawyers of the Roman Nasirov Alexander Lysak read out a statement by the head of the SFS, which stated that his client believes himself to be free and agrees to the limitation of their rights and the control of the NABOO and the ARS.
Comments
comments