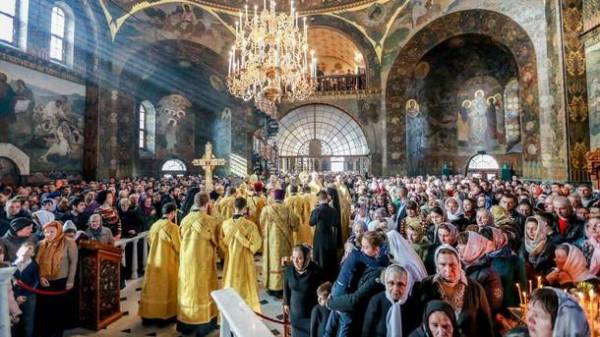 The Primate of the Ukrainian Orthodox Church Metropolitan Onufry on the day of the Triumph of Orthodoxy – feast, which is celebrated on the first Sunday of Lent, took in his residence in Kyiv-Pechersk Lavra ambassadors and representatives of embassies of nine States, most of the population professes the Orthodox faith.
According to the information Center of the UOC, on this day, a festive reception was attended by the ambassadors of Belarus, Bulgaria, Greece, Georgia, Macedonia, Moldova, Russia, Serbia, and Romania. The meeting was held after the divine Liturgy, which was attended by the ambassadors of the Orthodox countries.
"At a time when our country, and with it our Orthodox Church is undergoing a test of General congregational prayer with the brothers in the faith gives us strength, gives hope and strengthens faith in the fact that our Ukrainian land will be peace and God will bless us," – said in his welcoming remarks the Primate of the UOC.
Metropolitan Onufry recalled diplomatic representatives about the centuries-old ties to the Orthodox Churches.
"Welcoming each of you, I remembered the most basic thing that unites our Churches, Nations and States. These brief memories and digressions into the history of our relations demonstrate that we are family to each other. What unites us, our common Orthodox faith, which our Nations have, for which our glorious ancestors often suffered, endured suffering and even dying," – said the Primate of the UOC.
His Beatitude Onufry recalled the words of Scripture that "brother from brother claim, like hail solid and safeguarded".
"We are brothers in faith and the possession of the Orthodox faith really establishes us and guards. The Orthodox faith makes us strong in patience personal sorrows and sensitive to the trials endured by our brothers in faith and all of humanity as a whole", – concluded the Primate of the UOC.
On the first Sunday of lent the Orthodox Church performs the rite of the Triumph of Orthodoxy. The celebration of the triumph of Orthodoxy was established in memory of the victory over iconoclasm.
The doctrine of the veneration of icons, based on Scripture and tradition adopted by the early Christians, up to the VIII century remained intact. But spread the iconoclastic heresy and the Church was subjected to persecution, more than from the Gentiles. More than 100 years flowed the blood of the Orthodox, who fought for the right to represent the icons of Our Lord Jesus Christ, the blessed mother and the saints, and pray in front of icons.
The seventh Ecumenical Council established the veneration of icons, and the Patriarch of Constantinople Methodius established a special festive worship service. Orthodoxy was finally restored in 843, at the service in St. Sophia Cathedral in Constantinople on the first Sunday of lent.
Comments
comments