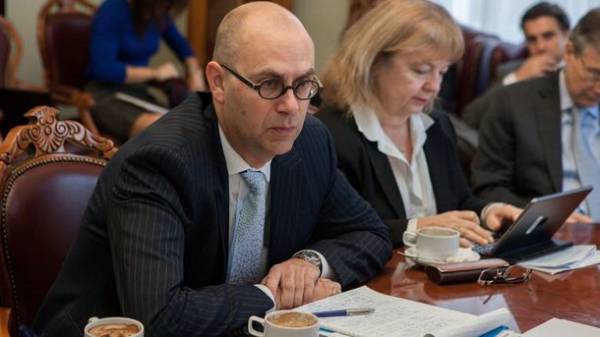 The international monetary Fund (IMF) agreed to an updated Memorandum of economic and financial policy of Ukraine, according to a press release of the Fund.
"The IMF mission reached agreement with the authorities of Ukraine in respect of the Memorandum of economic and financial policies. This opens the way for the third revision in the second half of March, the Fund's Board of Directors eff EFF and the report under article IV of the IMF Charter (the collection and discussion of economic and financial country information)" – is cited in the document, the head of the IMF mission in Ukraine Ron van Ore (Ron Van Rooden).
Open the IMF in March 2015 the four-year EFF program total amount of SDR12,348 billion (about us $17.25 billion) with the first tranche of $5 billion originally envisioned by the quarterly revision of the program, the allocation in 2015 of three more tranches of SDR1,18 billion ($1.65 billion) and a decrease in quarterly tranches in 2016-2018, up to SDR0,44 billion ($0.61 billion).
Ukraine was able to obtain a small delay in the second tranche for this program to $1.7 billion in early August 2015, and then there was a long pause because of the outstanding number of conditions, political crisis and change of government.
After the arrival of the new Cabinet, headed by Volodymyr Groisman in April 2016, the negotiations on the continuation of funding was resumed, however, the IMF decided to allocate the third tranche of $1 billion only in mid-September. The revised schedule of funding, a further allocation of funds was planned on a quarterly basis, the results of the performance criteria, in particular, the fourth tranche of $1.3 billion – in mid-November 2016. The largest tranche is planned for the first quarter of 2017 – more than $1,986 billion, then the size of the two following will be reduced to $1.33 billion, and the remaining five to $735 million.
After the nationalization of PrivatBank and adoption of budget-2017 heads of Finance and the national Bank stated that the likelihood of a positive decision of the IMF to allocate to Ukraine the fourth tranche of the EFF program in late January of 2017.
Earlier, Gontareva announced the Ukraine to receive a new loan tranche from the IMF in February-March 2017.
Comments
comments