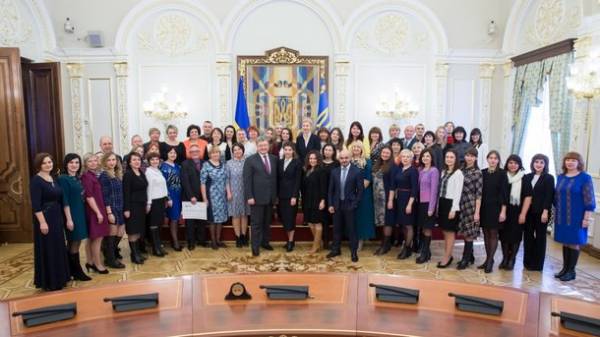 President Petro Poroshenko with his wife Maryna Poroshenko handed over a certificate in the amount of 556 thousand UAH of the Charity Fund Poroshenko for stipends to teachers participating in the project "English Teacher – agents of change" that are part of the national campaign "Ukraine is Speaking" hold trainings to improve the level of teaching English in secondary schools. About it reports a press-service of Administration of the President.
"Petro Poroshenko expressed confidence that despite the end of 2016 – Year English language initiative English language training all over Ukraine will be continued", – is spoken in the message.
President's wife Maryna Poroshenko congratulated everyone on the successful implementation of the program "Teacher of English – agents of change". "Today we have the first results of this project, when last year Ukraine has risen in the world rankings of English proficiency. According to the BBC, we entered the seven countries which inhabitants most actively studying this language," she said.
Director of the British Council in Ukraine, Simon Williams, speaking about the project Go Global said that it was an honor to work in the Ukraine and the Ukrainians: "This is fantastic. It is a great honour for the British Council to collaborate with the Fund Poroshenko in this project. And we see its successful implementation, namely the increase in the number of people who already speak English."
Recall earlier Petro Poroshenko noted the high state awards of soldiers of the Armed forces of Ukraine and soldiers of the National guard of Ukraine, which protect the Ukrainian people and the state of Russian aggression in the Donbas.
Comments
comments