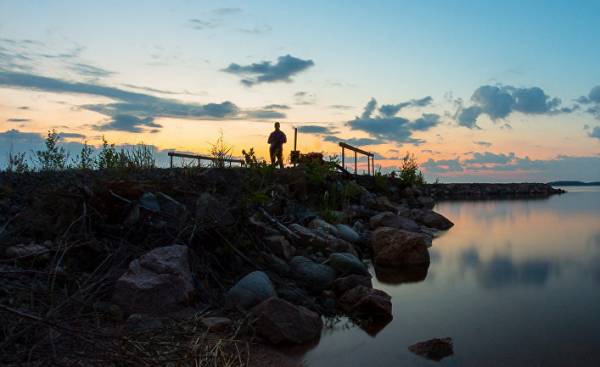 The most famous visitor to the cottages Karhupirtti on the island of Taipalsaari in Finland was Vladimir Putin − then Prime Minister of Russia. He popped in here together, Prime Minister of Finland Matti Vanhanen (Matti Vanhanen), to fish and go to the sauna after a seminar about relations between the EU and Russia, which was held in may 2010 in Lappeenranta.
The owner Karhupirtti Matti Karhu. (Matti Karhu) says that taken for one-day visit, security measures have been enormous.
"Two Finnish and one Russian group security checked before the whole house. Prior to this inspection we had to remove all plastic bags and cardboard boxes all quarters, including even Christmas decorations from the warehouse. After that, the staff were allowed to move about the building unless accompanied by a police officer".
Before dinner the Prime Ministers within two hours fishing off of the pier guarded by two police boats and motor boats.
"Then the chief of Protocol came to me in a panic to report that the Lord went to the sauna. Fortunately, I was stoked, although it was said that in the sauna no one will go."
Karhu. took it to the sauna beer, lemonade and melting. Melting in case if they want to swim or soak in the Spa pool.
"Thank you, not now, next time", promised Putin.
Two decades of work as an entrepreneur in the field of tourism and conference services began to affect. Now Karhu. wants to transfer his firm Karhupirtit another owner on the terms of the franchise.
"I have assisted and shared their knowledge with the new owner, which could be, for example, an entrepreneur, is expanding its activities in the field of public catering".
He could maintain the property in good condition.
On the island of Taipalsaari, located in the Bay of lake Saimaa, in 1993, built the cottage Hietapirtti where you can relax and enjoy the conference. Soon beside him appeared larger cottage Karhupirtti. And after some time it has earned a contemporary smoke sauna.
Women's sauna Karhu. hastily built from an old house in the spring of 2010 before the visit of Putin and Vanhanen. He said that among Putin's accompanying persons will be a woman Prime Minister. Information was false, but since then women have got their own sauna.
The most expensive building on the shore is a pavilion. Here can comfortably accommodate 60-70 people in order to hold a meeting or lunch. Now this room is fit for is to be able to have family gatherings.
Comments
comments