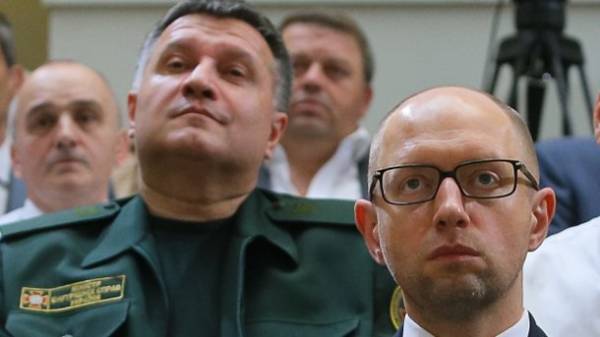 The Minister of internal Affairs Arsen Avakov along with the leader of "popular front" Arseniy Yatsenyuk are going to discuss with the President of Ukraine plan to return Donbass under the control of Kiev. About it on air of TV channel "112 Ukraine" said Advisor Avakov, people's Deputy from "popular front" Anton Gerashchenko.
Nardep noted that is familiar with the plan but before its publication could not disclose details.
"While Mr Avakov will not provide this plan to the public, I'm not authorized to comment on the plan. I have met him. This is one of the solutions to the problems with the return of the occupied territories. I think Arsen Borisovich is the situation together with the leader of our party Arseniy Yatsenyuk to discuss with the President of Ukraine", – said Gerashchenko.
Earlier Arsen Avakov said that the Ukrainian authorities have a plan for Donbass, is not associated with concessions to Putin's regime. He added that he was familiar with the real plans of the Ukrainian diplomats working to resolve the situation.
He also noted that in the event of aggression by Russia against Ukraine will be a huge number of human victims, while Europe will face a new wave of refugees. The Minister is not sure that Putin's regime will survive tens of thousands of losses.
Comments
comments