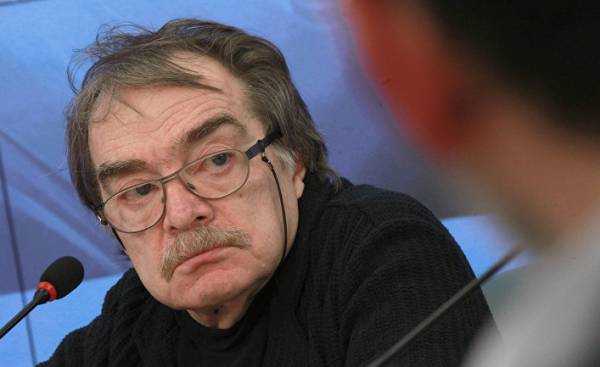 The third world war has long been coming and is developing according to the laws of the epidemic is unclear where and who knows when it will end. The only thing you can do is to observe personal hygiene — not from other people's plates, don't go to large swarms of people, not to lick or foreign plates, no hands, and try to live with your mind… So says the Russian artist, Director, screenwriter, actor Alexander Adabashyan, who came to Riga to participate in the work of the Russian stand of the Latvian book fair at Kipsala.
The reason for the meeting with the residents at the club Kultūras līnija was the presentation of the children's book "the Crystal key" and the movie according to her "were we" created Adabashyan in collaboration with Anne of Cernakova. After showing the trailer of the picture the artist answered questions from the audience on various topics. The portal Delfi publishes excerpts from the conversation.

About his book and the picture
First we were invited to cooperate with any overseas firm in the 90-ies in Russia, the whole rental was purchased by our, as they say, partners from the United States. They wanted a children's film, then laminating it. Our order they gave us was asked to write the script… then the contract is utterly amazing in relation to authors, I'm not talking about their pledged amount. They took away all rights to everything, and had the right to redo it all somehow. Plus a lot of penalties, which could at any moment lose jobs and all the money. When we parted they said that in the economic school of America taught them "scenario in Russia is two strings of beads and two mirrors," but now they realized that "one thread and one mirror."
Not held this job. And actor Yuri Stoyanov advised: and write the book themselves, and then it ekraniziruya. And so we did. The book received a prize at the competition. Sergei Mikhalkov, who marched under the slogan "Today's children — tomorrow people." We were asked to make a version with illustrations — 222 images almost way. In parallel I wrote the script… Now the picture was taken. Struggling to release it. A lot of children's movies will not earn. If Chekhov's character said: "the Ruble is this sail of the 20th century", now — "Dollar — sail of the century".
About the mission of America
In the memoirs of Prince Volkonsky I read the phrase, which he, in turn, subtracted from Dickens: "the Mission of America is to debase the Universe." It's not me — it's Dickens invented in the 19th century. But I think this mission is achieved safely. To deal with this extremely difficult because there's extraordinary equivalent of all, any work of art is profitability. How it brought money
About "black lists"
(In the movie "were we," the role of the main villain was played by Dmitry Pevtsov, previously included in the list of banned in Latvia). Even in very quiet times in various interviews I compared what is happening with the epidemic of violence. Then I realized that the Third world war, which, as any war, is developing according to the laws of the epidemic is unclear where and who knows when it ends. It is then at war puts the point, they say, the king of incorrectly written to the king, and someone does not have enough arable land…
In every science as much of the truth as mathematics. If the principles of historical science to translate into any other, then each country should have its own Ohm's law, which also varies, depending on the political situation. In this country — double-two — six, and that — "a" plus "b" equals "C" squared. And the story to fit actually happened.
I don't think there is a logic in what is happening today. Countries that call themselves free and stand up for freedom of speech, for the words and punished. Harshly and unjustly in the name of freedom of speech. What is freedom? In 60-e years when in France, were riots, there agreed to the fact that "freedom is to deny, deny". Everything is possible.
Epidemic must try to survive. Succeed or not does not depend on us. Deal with it, saying in unison that more cholera this match will not — will not help. What to do during an epidemic? Personal hygiene. Is not from other people's plates, don't go to large swarms of people, not to lick or foreign plates, no hands… try to live with your mind…
About the time and place where I would like to get
(Based on his film "were we," in which the hero, jumping in different pictures, falls in different times of the Russian and Russian history). If you get in the past, it is better for a while. On the nature of the profession I studied the life of different times. For example, in the time of Versailles did not want to go for a long time — I know as a toilet. Hours three or four — depending on the digestion. Yes, somewhere in the 18th century to 0.01% of the population lived really interesting, but the rest from 8 am to 8 PM standing in an interesting pose on the field and lived an average of 35 years. I would like to stay there, there, there, but every time to go back and clean up.
Take, for example, "Morning of Streltsy's execution", when Peter forced the boyars to behead the archers — joy a little. And it was clumsily cut, with the fifth-the sixth time was, and Menshikov then corubal. But from a distance to see with a camera — well, and fast ago.
About repentance
Everyone has skeletons in the closet. For someone to need to transfer Menshovoj "Alone with all" to repent. Someone goes to the priest. In my opinion, to confess in an interview, this is how to confuse the post with the diet. The post inward and diet out. Diet is to get a better look, and confession — to look worse before, before whom confess…
How can you say that the whole nation needs to repent? Germany puts all the example that she has repented. Remember its history is a succession of attempts of revenge. Before that, there was repentance, then the accumulated irritation, then try another comeback, fails again unto repentance… I don't think they have calmed down. And then it is difficult to speak for the whole nation.
What must repent all of Russia? That happened in 50 years? This is not Stalin personally shot, and who wrote denunciations? Now it turns out that wonderful wonderful writers wrote to each other. Has anything changed? And not only us. I think everyone should start with themselves, not to say that all people will repent, and I to the heap with herself wash away. Will not help if the chorus to say that we are more sick with cholera will not.
About his mission
Before school I had tuberculosis, from which I miraculously recovered — was in the first pilot children's group. Then I had a migraine, from which I, too, was cured. Was cancer, aortic rupture… All the time some matches I pulled out from the world. As I said, maybe you have a mission on Earth is? And then I told a kind of parable, as a good man in Purgatory received a ticket to Heaven, he said that like there was nothing special. He said, no, remember, you went in the dining car of the train in Ulan-Ude, was sitting next to the woman who asked you for the salt to pass? I don't remember. So this was your mission… Maybe I have someone his salt passed.
About the mysticism of "the Master and Margarita". (Adabashyan in this picture Vladimir Bortko played Berlioz). Neither I nor any other didn't experienced. On the contrary, Bulgakov has given us wonderful opportunities. Was late for a shoot in another painting — have to lie or tell the truth. And then say: set the alarm for seven, and it rang 10 — mystic. And a bottle of vodka right in my mouth fell. Why did the accountant does not pay per diem? Opened the box — there pieces of paper…
The only really mystical story told by the Director Bortko. Many years ago, they searched the nature for the first version of the painting. They went around the Patriarch's ponds — looking where to shoot. The operator with the artist went on one side, and Bortko — on the other. To meet him was the guy with the bag, coming up with the Director, said nothing will work. And left. The film was shut down.

About the fate movie
At the end of life, Fellini told me: this is not my movie ends, and my audience goes. I can't imagine that today, a full house can be assembled on paintings variety "Eight and a half" or "the Sweet life". This is a consequence successfully completed our American partners of the mission. The concept of banality — it is very quantitative: when too sweet or too scary when perehodyat all borders…
For example, the product of Tarantino for me is a provocation. How can you joke about dying from overdose person?! May cause laughter shot through the head, when the brain is scattered on the car and need to wash it?! It is beyond good and evil! If you look young, they look so sweet and watercolour, as "wild strawberries" Bergman, impossible. They need all the time to tickle your nerves — to frighten, to amuse… All moving in this direction. Movie will come after us, like a rat behind the pied Piper, until everything collapses. In Russia all the same — now rentals, they rule the same partners who decide what we watch and what isn't.
About modern art
When in the Tretyakov gallery was a major exhibition Serov, after it could pass on the rest of the gallery — in the Department of "modern art": painted urinals and performances. I was talking about this with friends of the gallery. Here you go to the Museum, hanging landscape signed by "Unknown artist the circle of Corot". Or "portrait of an unknown. Land artist so-and-so". But can you imagine that will hang this poorly painted piece of plywood and it will write "Unknown artist of the 20th century." He will provide an independent value? Three pages, written next — probably not.
I read somewhere that after the knockout "Square" in the x-ray they found a black box with a signature from a French journalist: "Night fight with a black man in a dark cave". And under the red rectangle, "Cardinals on the collection of oranges on the background of the red sea". And opposite this "Square" there are still eight people who enthusiastically look at him. No wonder, when about a month in the Louvre was not the "Mona Lisa", then turn to look at this hole was bigger than the exhibit.

About revolution
Not for us to decide how it goes. Not it depends on us. Of course, evolution is a more correct way forward, but that if you, as a Buddhist, I assume that you will live forever. And since I want to have the result directly and immediately, to find the freedom and right to live is wonderful, and I, in the first place — it leads to results that have the outcome of any revolution that conceive romance, make bigots, and the results are villains. Eternal scheme.
Our difference from the same France that we to their revolution are pretty harsh. And the French revolutionaries put their monuments, Danton, Robespierre… everything is steeped in romance. But I have studied this subject, removing three paintings in France and four in Italy (speak these languages fluently). One picture was related to Marie Antoinette. More horror and pathological nightmare, unmatched in brutality anything that was going on here, I didn't know. Perhaps the Holocaust close to it. But there was not so overwhelmed by the loss of life when five morning had been designated at the guillotine — women waited, when finally machine work. But if I will describe in detail the killing of the Princess Lamballe (favorite of Queen), our event will end.
The great October socialist revolution was simple and clear slogans: "Peace for people", "Land — to peasants", "Factories to the workers". There is nothing to fight. And what is the result? Instead of peace — the civil war. What did the peasants? Only in 1974 was completed certification, and before that they were nothing — according to the papers, these peasants do not exist in nature. And what of the factory workers?

About monuments
A historical monument is a monument of history. It was. In Italy is the monument of Mussolini. He was. With Danton and Robespierre in France are, though, if you deal with their deeds — hair stand on end… Too many symbolic meanings we attach to it. Supposedly, the installation of the monument to Prince Vladimir… means nothing she means — it is a milestone in history, and why dismiss this? He was. And terrible was. Lenin was. I'm not saying that everyone needs to erect monuments, but it is still a key figure in the history — not Malyuta Skuratov in Grozny, but his activities have both black and white — all.
I think some part of nanesennykh monuments of Stalin will remain. For example, I saw in Yakutsk, as one private firm in its territory put a monument to him. Despite the fact that the Governor was not very happy. Too history it was. And then the colors change so quickly from black to white that at the time I offered to build a universal monument to remain only head to change — be transformed. A significant cost savings.
About Lenin's role in history
An ambiguous figure. By their actions, personality incredible. The results of these actions, I don't know whether it was a goal. In the 16th year they were saying that the revolution is impossible, but then took advantage of the situation, when the power lay — picked her up.
I have this apocryphal idea that if he had lived longer, things would have been somewhat different. I think the NEP, which was established for a long time, and the government, which he gathered around him (Menzhinsky spoke many languages, Chicherin played the piano, Lunacharsky wrote plays, since the Ministers of culture, in my opinion, nothing but denunciations, did not write… no, Medinsky writes) would lead gradually to the construction of a nice bourgeois state in the manner beloved France, Sweden and Germany, where Lenin would have been President.
You know that armored car he climbed in the pot and the cap to it then stuck — I figured out that incongruous. Everything would be silent. But then came the guys who, while Ministers were drinking "coffee" and talked about the beautiful, robbed banks, blew up and killed people, but which places in this wonderful government was not. And grandpa cleaned up. Rob the robbers — that was the slogan of the moment, and personal greed Lenin never been, said his most sworn enemies…
About modern actors
Approaching the anniversary of Yury Bogatyrev, and recently left Alexei Petrenko. This magnitude of artists no longer do. They are from a cohort Livanov, Mordvinov, Cherkasova, Simon… Now's not the scale. It is as if, during the races at the racetrack, instead of horses, to produce a pony. All as humans, but ponies. So modern actors — they are completely out of scale to what they play.
Bogatyrev was an artist for which never became clear what he can't. There is no genre in which he'd buried in the ceiling — and Comedy and tragedy and farce… One time he lived with us. Such a big, loose, thick-lipped, with huge hands that Kostya Raikin called "upper legs". When Nikita brought him into the picture "Among strangers" (he Adabashyan played in this movie a cameo role, and was its artistic Director — approx. ed.), he's in front of us, without any fitness, diet, and tricks makeup, our eyes turned into lean, hard, angular and sharp. And then broke in idiot Stasik in the "Native"… Now there piece of the actors there. Instead one can play the other. And in place of Petrenko or Bogatyrev no idea.

About liberals and intellectuals
Alas, intellectuals have shared on our, your, their-strangers. The situation is disgusting. This is one of the signs of the ongoing epidemic. Strictly speaking, this was always creative. Read memories of the same Valentina Serova… But it all was in the scale of creative. Was not divided into yours and ours. And on such a scale, as now, was not. Yes, the so-called ideological section sawed and us.
About critics
Criticism could not endure always. Why critics don't like me. As I said, any criticism — this is the argument of the eunuchs about love. Sitting in the harem, he sees so many documents that it seems he knows all about it. Except for one small detail away from him. But she is the main. To see something he saw, but to try…
Comments
comments