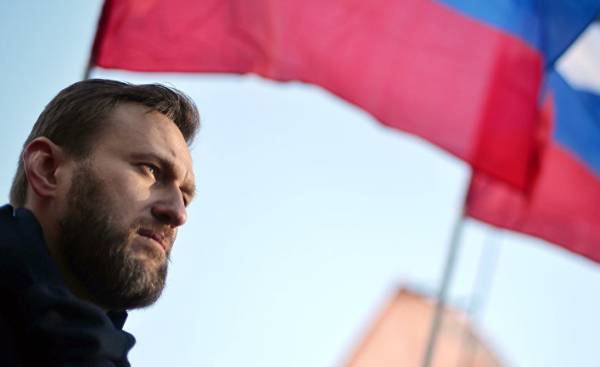 In an interview with DW Alexei Navalny spoke about how he is going to seek to participate in the presidential elections and change the country after their victory.
Opposition leader Alexei Navalny gave an interview with DW correspondent Nicholas Connolly in Yekaterinburg, where he arrived as part of its election campaign. However, it hit the ballots in the presidential election of 2018 is not guaranteed.
Nicholas Connolly: do You want to participate in the presidential elections in 2018. But soon will come into force sentence of court. What's next?

Alexei Navalny: I have the right to participate in elections and demand that my name was on the ballot. The Constitution explicitly says that I have a right to it. I do not agree and will never agree to such a strange and absurd position of Putin and the Kremlin that the Constitution does not apply to me. This is not so.
— And how will you ensure the participation in the elections?
— Through the people. No other format exists. I want to rely on the support of people who will force the Kremlin to register me. Just as these people in 2013 has forced the Kremlin to release me from jail the next day, despite the fact that the day before I was locked up for five years.
— You said that you are afraid in the Kremlin. Why?
— They are afraid of politicians who have the potential to deprive them of corruption of billions. What is the Kremlin now? This is a small mafia group mates who live a life of sheikhs and kings. They buy yachts. They transport dogs on airplanes, and it's not even a metaphor. Of course, they don't want to lose that. Putin wants to continue to control the largest country in the world as an absolute monarchy. Of course, they are afraid of those who brings people together, to deal with it.
— Are not you afraid that your participation in the elections will lead to their legitimation?
— I'm not afraid of anything to legitimize it, because I know that I won't do it. I have a political position, which is supported by quite a lot of people, especially in the largest cities. I'm going with a completely honest agenda, not afraid to name names, investigating specific cases of corruption. What I differ from any of the Kremlin's candidate from the systemic opposition, quite obvious to any observer. So I just do what I have a right.
— Why you need a change of government?
Power change is needed, because Putin is destroying Russia. The last four years real incomes of the population falls by 5% every year. Yekaterinburg is one of the three most economically developed cities in the country. But go outside — you will see destroyed roads, working in the industry of people who get $ 500 a month.
— What is your program in the first hundred days?
— Emphasis: de-monopolization of the economy, the fight against corruption, the return of democratic institutions. First elections of mayors, governors and generally free elections for all political forces.
— You have no disappointment in fellow citizens? After mass rallies there, despite falling revenues.
— Of course, no frustration. The lack of change — including my fault. So I flawed in 2011-2012, once the protests had not led to big changes. Russian are not particularly backward people, in all authoritarian countries, people behave in a similar way. The same thing happens in Kazakhstan, Belarus, Uzbekistan, Tajikistan, and Zimbabwe. That is, in those countries where the leader seized power, physically destroying opponents, not let party on elections and controls the media. I know that Russia is essentially a European country. I notice that people are describing the ideal polity, to describe democracy. They may be afraid of the word, but it's always a democracy, and it is most important to me.
— You see changes in the attitudes of society in comparison with 2012?
— Well, of course. Russia involved in the war. The militarization of society has reached an extreme degree. A TV show cannot even be called propaganda, is a real hysteria directed against the Western way of life. Putin has not stopped before the crimes — even murder opponents to retain power. Russia has become a different country. This is a real autocracy. But I participate in elections in order to deal with it.
Comments
comments