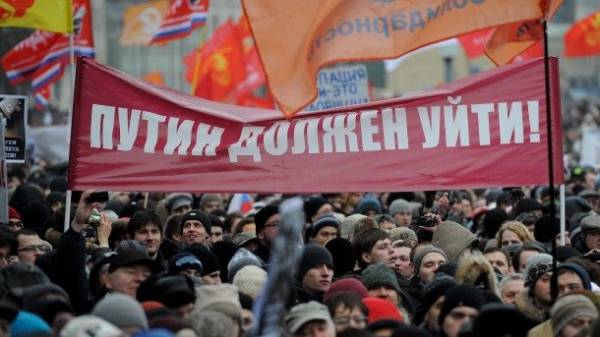 To the fall of Putin's regime can result in the collapse of the economic situation in Russia, resulting in unable to start a popular uprising across the country. This opinion was expressed by the "observer" was expressed by the Russian politician Leonid Gozman.
According to him, Putin will not cope with the protests if they begin to take on the whole country immediately.
"If there will be a large-scale destabilization, not on the Ukrainian scenario. It will flash the socio-economic protests in different parts of the country, which will not pour money or to crush it by force. Initially, it will be a small number of small protests in provincial cities, connected not with politics, but with a violation of any economic rights of the people: wages are not paid, the hospital was closed and the like. The first phase of these Assembly people are not against Putin, they will refer to it for protection. Already had: he came and restored order. But, you know, when there are two protests at the same time, you can still catch here and there. And when we are talking about hundreds of protests, and time and money is not enough," said Gozman.
He also hinted that it's not the fact that the Kremlin with the help of police will be able to stabilize the situation.
"But it is still unknown whether the Russian riot police, ready to shoot," – summed up the politician.
Earlier, the Kremlin propagandist and member of the RF Public chamber Sergey Markov told me that the President of Russia Vladimir Putin will leave the presidency permanently without the application of the scheme to replace Medvedev in 2024.
Comments
comments