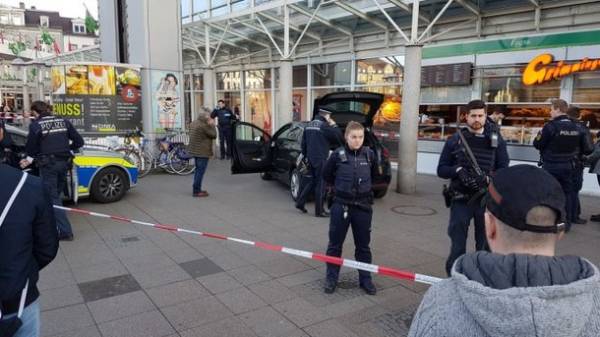 In the South-West of Germany in Heidelberg, the car crashed into a crowd in the Central square of the city, three people were injured, reports UNIAN with reference to the Seuddeutsche Zeitung.
The publication notes that according to police, the man, who was driving the car, was armed with a knife. He tried to escape from the scene, but police opened fire. The man was wounded and was taken to the hospital, his motives are being investigated.
Amoklauf in Heidelberg!!! Polizei schießt auf Messermann! Mann fährt mit Auto durch Fußgängerzone!https://t.co/w310rMBkq3 pic.twitter.com/8L8Q9KnbSb
— Andreas Patzwahl (@APatzwahl) 25 Feb 2017
While there are no reports about the Association of the attack with terrorist activity.
According to the Consulate General of Ukraine in Munich, the incident injured three passers-by, citizens of Ukraine among them.
#BREAKING: 3 injured in #Heidelberg #Germany after suspect w/ knife drove his car into a pedestrian area pic.twitter.com/G5HmLkskua
— Amichai Stein (@AmichaiStein1) 25 Feb 2017
We will remind, on 19 December, the tractor-trailer drove about 80 meters on the territory of the Christmas market in the Central part of West Berlin, the square Breitscheidplatz. The victims of the tragedy were 12 people, 48 were hospitalized.
Terrorist organization "Islamic state" has claimed responsibility for the attack in Berlin.
Comments
comments