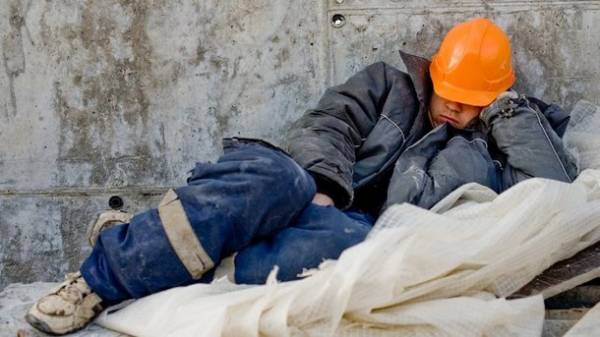 The workers get abroad more than 6% of Ukraine's GDP and for a long time affect the hryvnia exchange rate. Every year the number of labour migrants increases, while in Poland and the Czech Republic for the Ukrainians to open vacancies. How much earn labour migrants from Ukraine and conditions in which they live, recognize the site Today.
The workers transferred to Ukraine more currency than investors
Official data, where many Ukrainians work abroad, not as fixed guards only the fact of crossing the border. According to the estimates of civil service employment, working abroad is about 5 million Ukrainians – more than the population of Ireland. 43% of workers go to construction and repair work 23% work in agriculture, 10% work at home, 8% are caring for an elderly, disabled or children, according to a study of the sociological group "Rating".
According to the national Bank of Ukraine, in 1996 the contribution of migrant workers to the country's economy amounted to $ 350 million., 2004 – $ 400 million., in 2010, 3.1 billion dollars, in 2015 of 5.84 billion dollars. For 11 months of 2016, the workers transferred to Ukraine $ 7 billion, while foreign investors have invested in the country's economy is just 3,76 billion dollars. ToURS dollar long depends on transfers of migrant workers, experts say.
"All the years of independence the workers, which from year to year, formed a sufficiently large source of foreign exchange flows to Ukraine. This supports the hryvnia. Plus some of the workers open small and medium business in Ukraine is creating jobs and new taxpayers. But due to the mass Exodus of able-bodied Ukrainians, we lose human capital, intellectual resources. The outflow of people will be up to that time, while in neighboring countries the salaries will be higher. As soon as the income is equalized, the flow of migrant workers will significantly decrease", – says the head of the Committee of economists of Ukraine Andriy Novak.
See also: Where to relax on Ukrainian wages in February
Where migrant workers work and how much you earn
The largest number of vacancies offers for Ukrainians Poland, said content expert site rabota.ua Tatyana Pashkina. Due to the shortage of workers in the country rely on Ukrainian migrant workers. The Polish government is going to recruit 1 million workers. At the same time, according to official data, in Poland already employs nearly a million Ukrainians. Migrant workers promise to improve working conditions and to issue visas for longer periods.
Comments
comments