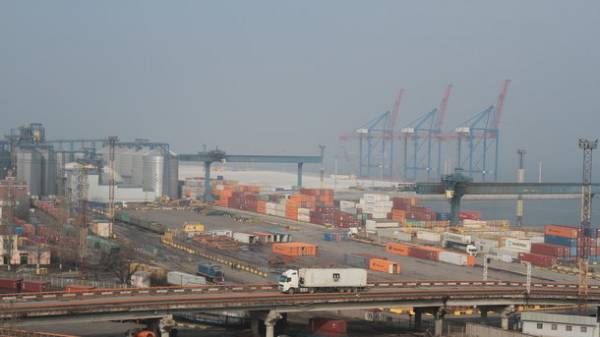 Last year Ukraine sold less abroad for their products and buying more than in the previous year, according to the state statistics service. Experts attribute this decline in world demand for our main exports — metal ore and the devaluation of the hryvnia, but predict that in 2017 the situation will improve.
PARTNERS AND PRODUCTS. As you can see from the infographic, the top five of our main trading partners account for a third of sales and a quarter of purchases. And the top buyers and top sellers include Russia, China and Poland. It was the same in 2015, but then the trade with Russia was 25% more. Ukraine continues to increase the supply of wheat, meat, chicken, eggs, steel products in Egypt, ore in Poland. But Turkey and China bought less of our hardware.
According to the President Ukranalittsentra Alexander Ohrimenko, with Russia continues to trade in mutually beneficial areas: for example, importing non-ferrous metals, raw materials for chemical industry, supply fasteners, transformers, plastic products. "Gas we in Russia have not bought a cubic meter, so the volume of imports from Russia fell by a third, explained Okhrimenko. Is compensated by increased imports by Poland and Germany, as the Russian gas in reverse mainly was (and is) through them, but bought less gas due to the downturn in tajprom. Imports from Germany grew at the expense of purchases of cars and from Belarus — gasoline and diesel fuel that previously came from Russia."
BINOCULARS AND NAILS. In the structure of exports and imports unusual position. For example, the smallest export volume in 2016, was in Greenland. Ukraine sold there for $4000 binoculars and cameras. Nicaragua bought from us $29.1 thousand mysterious rubber products, and the island nation of Tuvalu — $1000 Ukrainian vodka (about 500 bottles).
There are very small orders (minimum consider our statistics, the amount of exports and imports — $100). $100 Uzbekistan and Estonia have bought two units of hours of the Ukrainian brand, Austria — threads, Andorra and Ireland — canned vegetables, Kyrgyzstan — leather (jacket or handbag), Greece — caps. Natives of the Cayman Islands sold for $100 on alcohol and $100 of honey.
Most small imports $100 of goods in the ports of the Isle of man (Souvenirs, hygiene items), the same amount of ferrous metal (nails, etc), Ukraine has bought from the Small outlying Islands of the United States, the $200 of scrap metal from the Vatican. And finally, $400 knives and tools from the Faroe Islands.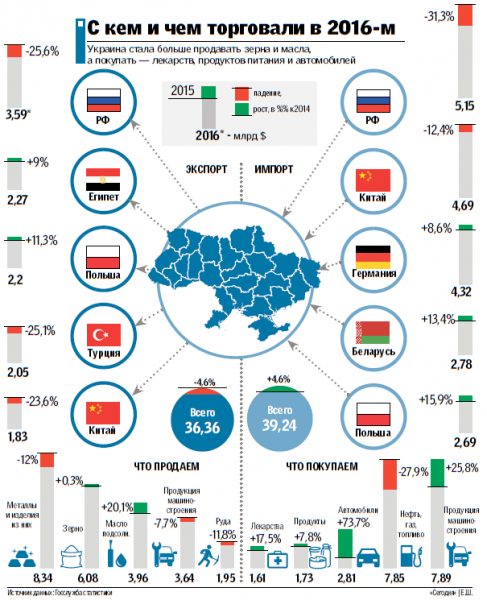 EXPERTS. Economists say that in 2016, the continued curtailing trade with Russia and the development with the Middle East and Southeast Asia. There are increasingly popular products. Increased trade with immediate neighbours in the EU, especially Poland. "Exports to Russia fell because of the Russian Federation maximum limits access to its market to Ukraine, plus a large share took delivery of the defense industry, which began to block in Ukraine, — says economist Ivan Nikitchenko. — The decline in exports to China has occurred because of falling of deliveries of ferrous metals, similar in Turkey. As in previous years, the increasing role continues to play APK, taking share from metallurgy, chemistry and engineering".
FORECASTS. Nikitchenko predicts that Russia will cease to be our major trading partner in 2018. "In 2017, will continue to increase in the share of agriculture, should recover the metals. Too bad that the decline in engineering and the lack of production we model imports" — said Nikitchenko. According to Okhrimenko, in 2017 the world will begin to grow demand for the metal, "Also, this year Ukraine will get 12-15% more revenue from grain exports. Mechanical engineering finds its niche in Europe: we have more and more to supply components for the electronics, wire, hardware".
Comments
comments