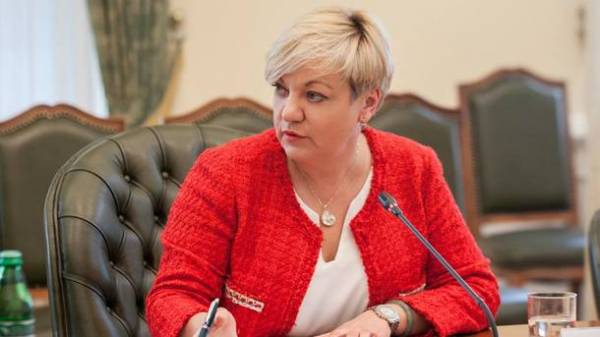 The basic scenario of economic development of Ukraine provides for four tranches from the International monetary Fund (IMF) in the amount of $ 5.4 billion. This was announced by the head of the National Bank of Ukraine (NBU) Valeria Gontareva.
The head of the NBU noted that tranche of $ 1 billion will go to Ukraine in the coming weeks.
"For this tranche we have fulfilled all prerequisites and structural beacons", – said Gontareva in an interview with Reuters. According to her, the agreed terms of implementation of reforms required for the next tranche.
Despite the fact that the negotiations on the conclusion of the third revision of the program and receipt of the fourth tranche was delayed from last year, the head of the NBU is confident that Kyiv has every chance to get the full amount for the year. "Tranches can be combined, so I don't have all the time to do the reviews, it is possible to take higher commitments to make the reforms faster," she said.
The baseline scenario, according to Gontareva, assumes no escalation in the East of Ukraine, the preservation of macroeconomic stability and continue cooperation with the IMF. If these conditions are fulfilled, the Bank will also continue to lift restrictions on the foreign exchange market, said Gontareva.
Recall that Ukraine and the IMF is in the final stages of agreeing the updated Memorandum of cooperation, the conclusion of which is necessary to obtain the fourth tranche under the EFF. Earlier Gontareva predicted the receipt of the next tranche from the International monetary Fund in late February or early March.
The website "Today" to figure out what the IMF can demand from Ukraine, and how this will change the lives of ordinary citizens. Retirement age, by the way, there will be no raise.
Ukraine and the IMF in March 2015 signed a Memorandum of economic and financial policies which the country should undertake in the framework of the extended Fund (EFF). Just program worked for Ukraine of about $ 17 billion of which have already been allocated 7,7 billion dollars.
So, in September 2016 after a delay of a year, the IMF has approved granting Ukraine the third tranche in the amount of one billion dollars.
Comments
comments