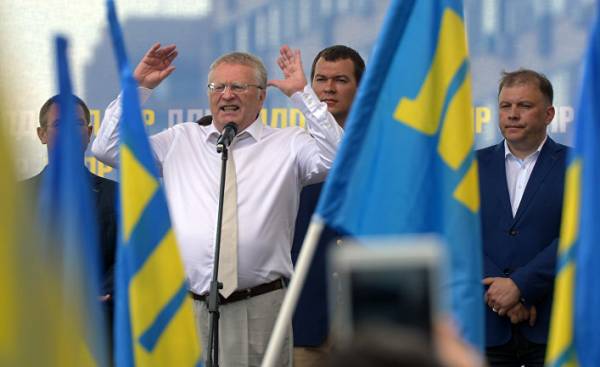 Politicians and analysts already say with certainty that Putin will nominate his candidacy in the next presidential election in 2018. Lacking only the official statements from the President himself.
Despite the lack of statements from the Kremlin about the nomination of Vladimir Putin for the next presidential election which will take place on 11 March 2018, members of the political and economic elite are betting on the fact that the incumbent President will be re-run.
Putin himself at the end of December 2016, said the Agency TASS that he will inform about his decision, when the time comes. And while analysts suggest different scenarios in which incumbent President will retain his position until 2024. After leaving the scene of Alexei Navalny — the man attracting the most opposition votes, statements on the nomination of the characters who have previously participated earlier in the presidential race: liberal democratic party leader Zhirinovsky for the sixth time to run for the presidential elections. About his intention to run for President also said Communist party leader Gennady Zyuganov, is still an important opposition against the "United Russia".
Is Mikhail Prokhorov, owner of the NBA Brooklyn Nets, ranked second in the list of the richest people in Russia, is expected to appear on the political scene of the famous economist Alexei Kudrin, who served as economy Minister under Putin and Medvedev from 2000 to 2011. According to Russian analyst and political scientist Valery Soloviev from the Russian University MGIMO, Kudrin's candidacy, combined with Kasyanov, leader of the Union the right to which also belongs the Bulk, can become a kind of compromise, compensating the lack of the Bulk. The analyst, however, argues that Kudrin could attract the necessary votes to become Prime Minister, and offer the country a series of anti-crisis reforms that are often considered unpopular.
Curious question on possible candidates arises from the fact that they were offered in the study of the Foundation "Open Russia" financed by the exiled oligarch Mikhail Khodorkovsky, who promised to provide a potential enemy of Putin economic support in the next election.
At the same time the Kremlin comes to the information about the support team of the incumbent President. In an interview with the BBC, Putin's press Secretary Dmitry Peskov reiterated its support for President in 2004. Peskov said that Putin is working on a plan related to the elections of 2018, but reiterated that at the moment this is not the main subject of his concern. In conclusion, Peskov expressed hope that Putin soon as possible to declare their intention to nominate a candidate, and there is a strong opposition can go in Russia's favor.
Comments
comments