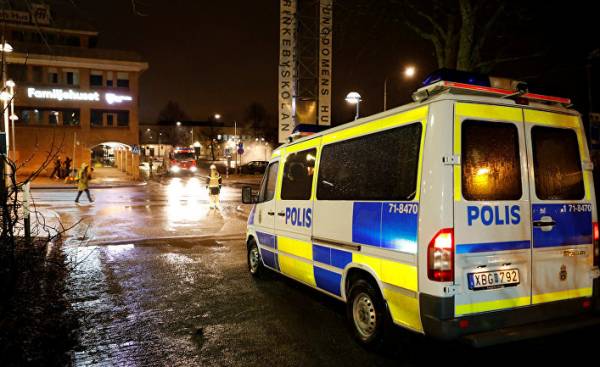 Riots, burning cars, violence and looting of shops started in the area Rinkeby (suburb of Stockholm approx. ed.) after the police arrested the man. It's terrible — but, unfortunately, not for the first time. A few hours before the start of the unrest, the owners began to close their shops in the centre Rinkeby. Informed entrepreneurs Tensta Husby and sounded the alarm, saying that more can't keep stores open. Predatory raids, destruction, theft, threats and blackmail: the terrifying picture looks even too specific.
But still no one listened to these alarm signals. Repeatedly shooting claimed lives. And last week residents of the area Yerwa learned that a stationary police station in Rinkeby will appear in the best case, no earlier than 2019, though it promised to build by 2017. The work has several times postponed.
We can't just watch as Mature representatives of organized crime recruiting young people to make "mules", transporting drugs, or perpetrators of other crimes in exchange for "protection" or other advantages. And we can't just look at how burning cars in Rinkeby. If now everything comes so far that entrepreneurs vyzyvajut from the area, means, society lost the ground of crime, which intends to hold the local residents hostage, freely conducting their criminal activities.
When the "red-green-pink" most developed local development plan, they didn't even think to make a top priority the issue of security in Rinkeby. Instead, they decided to do some abstract goals like "increasing social capital" and "enhancing the participation of district in city life".
And when the lead policy Vangard Stockholm Karin (Karin Wanngård, Social democratic party) was to gather representatives of authorities, businessmen, police, property owners and other interested parties, to collectively create a plan to fix it, it just wasn't there. Policies bearing the greatest responsibility for the development of Stockholm, must not avoid a collision with the crime problems.
I constantly hear stories left that poverty causes unrest. Many people in the suburbs are experiencing great economic and social problems. Distress and poverty is a reality for many, and these issues that we, politicians, should decide. But poverty is not an excuse to attack with weapons on their neighbors. It does not entitle you to beat the window and Rob another store. Our lenient attitude towards crimes will not help a young person who decides not to join the parallel criminal society.
I want to turn to Karin Vanguard: start a dialogue with businessmen, property owners and police in yerve Jew. Create a shared plan for the neutralization of crime. Temporary police stations also need to create yerve Jew as soon as possible — even if you have to use equipment from the reserves of Stockholm and any suitable premises. If the government is not doing its responsibility to hire sufficient number of police officers, you should put forward to the government a proposal for additional funding for such services. And those millions that are in the "red-green-pink" the budget allocated for "strengthening democracy" can and should be used to strengthen the protective perimeter and the elimination of road junctions and pedestrian bridges from which to throw stones during the riots.
Don't use your power for the fight against crime is to betray those who see as their freedom stealing criminals. No woman and no man should live in fear in their own neighborhood, and nobody should be forced to close the shop because of threats, robberies and other crimes.
We are talking about the right of every person to freedom and security. And we are talking about is not to give criminals who consider Stockholm as your personal backyard.
Lotta Edholm (Liberal) — Vice mayor from the opposition in Stockholm.
Comments
comments