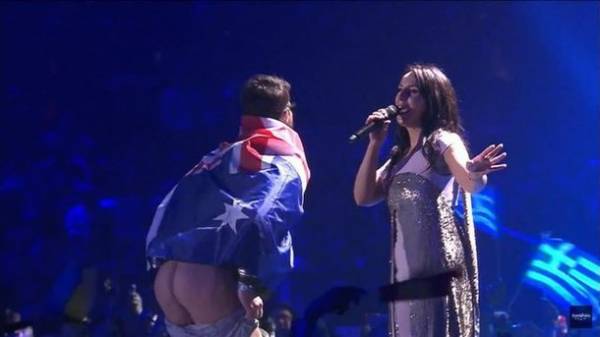 Yesterday, may 13, during the final of the song competition Evrovidenie-2017 in Kiev pranker Vitaly Seduc has angered social media the trick with the exposure of the fifth point on the stage, where he played Jamal.
Yesterday during a speech by Jamala at the final of Eurovision-2017 in Kiev on stage, ran the fan with the flag of Australia and bared buttocks. Bully turned out to be scandalous prankster Vitaly Seduc. After the incident, the guy gave security, and Jamal continued to sing as if nothing had happened.
The delegate of Australia apologized to the audience and said that his country bully has no relation. As it turned out, the culprit of the scandal was the Ukrainian prankster Vitaly Seduc.
An urgent need to issue an Australian citizen a Russian passport and an apartment in Chechnya! pic.twitter.com/w5jEakPtiT
— Stalingrad (@StalinGulag) may 14, 2017
Serduchka did not sing ass showed also Ruslana in shorts wybrali – vinners
— Kryhitka Smurf (@evgeniamalina3) may 13, 2017
Reading the comments of the Russians to the Eurovision song contest, the impression that they liked best naked ass on stage.
— KashinKashinKashin (@KSHN) may 14, 2017
They saw in the ass something familiar, sacred, like their representative and no one was excluded from participation.
— KashinKashinKashin (@KSHN) may 14, 2017
If it were possible for them to vote, they would certainly have given a fuck all their votes.
— KashinKashinKashin (@KSHN) may 14, 2017
It should be noted that this is not the first incident with Jamala at the current Eurovision song contest. So, before Jamal was not allowed to appear on the red carpet of Eurovision. According to the producer of the artist, the organizers explained that the rules of the ceremony.
Also, the singer failed to advance to get a ticket to the finals on 13 may and wrote in the social network that are willing to buy four tickets.
We will remind, in Kiev ended the international song contest Eurovision-2017. The winner this year was 27-year-old Portuguese Salvador Collected with the song Amar pelos dois. The representative of Portugal received the highest score from both the national jury and the spectators of the contest.
A song for the participant from Portugal wrote to his sister, Louise Collected. She also got the win in the special category of the Eurovision song contest "prize of the composers," as the author of the best heard at the competition of music. Ukraine this year took 24-th place.
Comments
comments