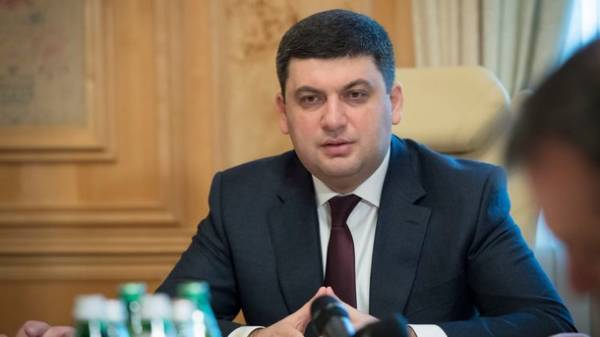 Prime Minister Vladimir Groisman told the participants of the "coal embargo" that their actions hurt the citizens of Ukraine.
About this informed the press-Secretary of Prime Minister Dmitry Stolyarchuk, commenting on the meeting of Prime Minister with representatives of the participants of the blockade on 20 February.
"After Volodymyr Groysman called for dialogue among all stakeholders in addressing the situation of "carbon blockade" approached by representatives of the participants of the blockade on the meeting and discuss the problem. Such a meeting was held yesterday. During this meeting the Prime Minister again stressed that the blockade will suffer in the first place, ordinary Ukrainians: there are risks of shortages of heat, providing electricity, with the possible loss of jobs," wrote Stolyarchuk on the page in Facebook.
The press Secretary said that the Prime Minister also called for strengthening the fight against smuggling in the territories adjacent to zone of military operations, and greater control over the goods transported between controlled and uncontrolled territories.
"The decision in this area is attributed to the powers of the Cabinet of Ministers – the government is ready to accept," the report says.
It is noted that the Prime Minister stressed that the situation in the energy sector and the strategy for the gaining of Ukraine's independence, should be the subject of a broad political dialogue, as they require steps from both the Executive and legislative branches of government.
We will remind, on Donbass lasts blockade coal shipments, with the active participation of several people's deputies of Ukraine. Upon blocking of railway lines in the Luhansk oblast Prosecutor's office opened criminal proceedings. The country introduced a state of emergency in the energy sector, because the necessary generation anthracite coal is mined only in the occupied territories.
Prime Minister Vladimir Groisman said that the current energy crisis in Ukraine was created artificially.
The website "Today" to find out the threat is a blockade of Donbass. According to experts, the consequences could be disastrous.
Comments
comments