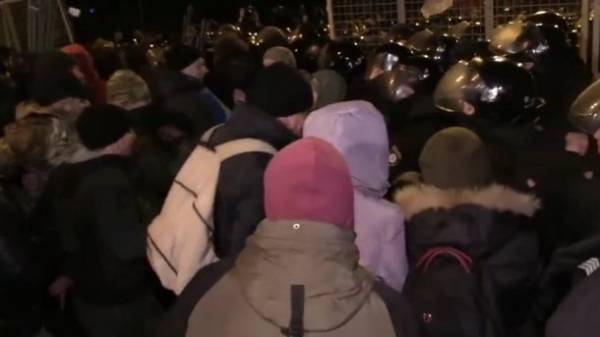 The police detained the Chairman of the Organization of Ukrainian nationalists Nikolay Kohanivsky, transfer "Ukrainian news".
"As of 20:20, after several fights, the police arrested Kohanivsky, and several of the protesters," – said in the message.
According to "UNN", the clashes began after the protesters approached the metal detectors. We could hear the explosions of firecrackers. In the column of activists were a few hundred people.
Militiamen managed to push a significant part of the protesters, some of whom were taken to the police patrol cars. To the square there arrived the ambulance.
Later it became known that during the clashes of protesters on European square with the police, seriously injured a police officer and five protesters arrested.
"Five people were detained, the victim has a police officer, he's got serious injuries," said the chief of a capital police Central Board Andrey Krishchenko in the air "Gromadska".
As reported by the AP the protesters want to stop trade with the occupied Donbass. The evening of 18 February in Kiev on Institutskaya street clashes between protesters and police.
Meanwhile, the police said that he had not used force against protesters.
Comments
comments