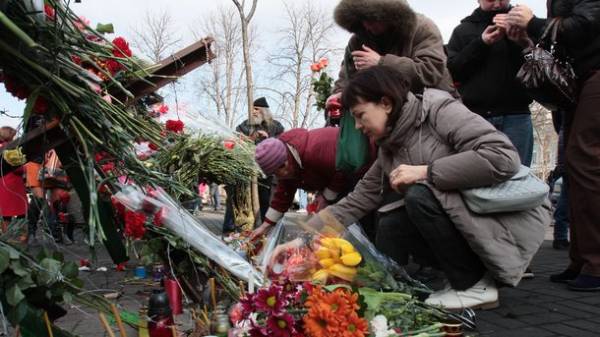 In the center of Kiev continue the event in memory of Heroes of Heavenly hundred.
On Independence square, Khreschatyk street and European square there is a lot of people who come with flowers, oil lamps and pictures of the victims of the Revolution of dignity, writes Interfax-Ukraine.
Near the stele of Independence starts the rally of the Organization of Ukrainian nationalists (OUN). Here, people put oil lamps slogan "glory to Heroes".
The situation in the capital is calm, the rule of law provides a large number of law enforcement officers.
In addition, in the Mariinskiy Park in Kyiv on the spot death of five participants of the revolution of dignity opened a memorial sign, UNIAN reports.
At the entrance to the Park opposite the House of officers, a memorial plate with the names and portraits of the five participants of the revolution of dignity, who died 18 Feb 2014 near to this place.
On the memorable sign the names of Sergei Shapoval, Alexander Plekhanov, Sergey Didych, Volodymyr Kischuk and Igor Serdyuk.
Also in the Metropolitan police reported that 6.5 thousand militiamen provide the law and order today in Kiev, in connection with the mass actions devoted to third anniversary of the revolution of dignity and commemoration of the dead Heroes of the Celestial hundreds.
Comments
comments