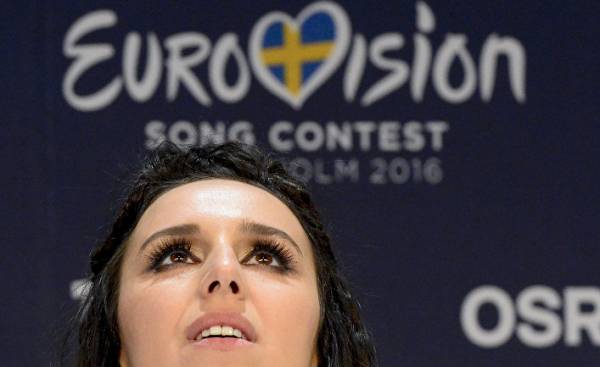 Media attention riveted to the fact whether the Russian contestant Yulia Samoylova, the wheelchair, to participate in "Eurovision". The fact that the Ukrainian authorities banned her from entering the country. The problem is that she participated in the show in Crimea, which Russia annexed unilaterally. In order to emphasize that the Crimean Peninsula belongs to Ukraine, the authorities are obliged to obtain government permission to visit him.
The first signs of conflict appeared during last year's competition, which was held in Sweden. Then won the Ukrainian singer Jamal, whose father is a representative of the Crimean Tatars. She sang a song about the tragedy of people who were forcibly relocated during the Soviet period. Russian politicians expressed strong protest.
The country whose representative wins the Eurovision song contest, takes the competition the following year. There were rumors that Russia would boycott the competition this year, but in March the national television Samoylova selected to participate in the contest.
The European broadcasting Union has sent a letter to the Ukrainian Prime Minister in which he warned that if the ban on entry will not be lifted in the future Ukraine may exclude from participation in "Eurovision".
Ukraine is concerned that international interest in the Crimea reduced. In France, which is one of the countries that support Ukraine for the presidency will fight the leader of the political party "national front" marine Le Pen, who has openly stated that Crimea — is Russia.
The influence of President Poroshenko reduced. In January, opposition MPs and former military cut off Eastern regions controlled by Pro-Russian forces, from the railway, saying it plays into the hands of the enemy. President Poroshenko has criticized these moves, stating that it would throw into chaos the entire Ukrainian economy, however in March the government itself organized the blockade. The authorities did this because of the growth of dissatisfaction with the Ukrainian administration, which is not what can not.
To compromise would be come extremely difficult.
Meanwhile, the essence of Eurovision is its versatility. If you remove the singer with a disability, have to face criticism from the international community. Maybe the Ukraine needs a peaceful resolution of this problem.
Comments
comments