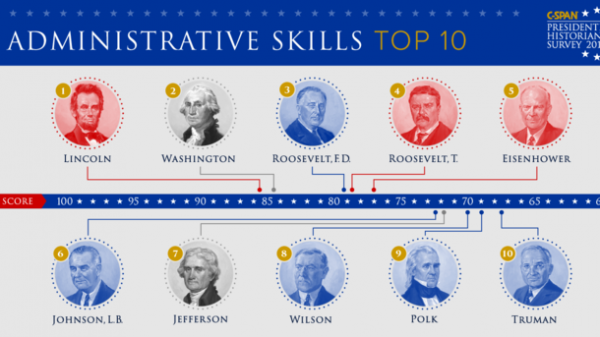 American TV channel C-SPAN published a ranking of U.S. presidents based on the results of a survey conducted among the historians and other professionals knowledgeable about the institution of the American presidency, reports RT.
According to the survey, first place in the ranking took the 16th President of the United States and the first Republican President Abraham Lincoln.
Second and third place went to first President George Washington and 32nd President Franklin Roosevelt, who held the presidency during the Second world war.
The top ten also includes Theodore Roosevelt, Dwight David Eisenhower, Harry Truman, Thomas Jefferson, John Kennedy, Ronald Reagan and Lyndon Johnson.
Ex-United States President Barack Obama was on 12-th line, ahead of his predecessor George W. Bush. He also was ahead of the 42nd US President bill Clinton.
According to the survey, Obama was most successful in the economy, however, demonstrated the worst results in international relations, and relations with Congress.
Earlier, U.S. President Donald trump said that she had inherited from the Obama administration, the mess in the countryand abroad.
Comments
comments