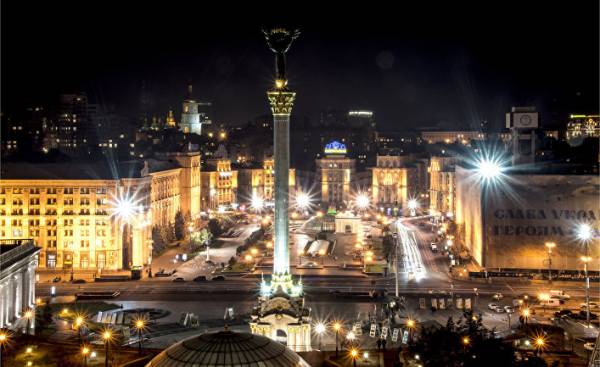 Due to the continued blockade of the railway in the Donbass, a city may be left without heating, including the entire left Bank of Kyiv. This was stated by President of Ukraine Petro Poroshenko at events commemorating the Heroes of Heavenly hundred and the Day of honoring combatants in the territory of other States which have passed on Thursday in Kiev.
"Due to the blocking of the supply of coal there was a threat that no heat can stay Sumy, Kramatorsk, left Bank of Kiev and many other cities", — said the President. According to Poroshenko, no work can remain 300 thousand metallurgists, and in the occupied territories — tens of thousands more.
"The state will lose up to two billion dollars of foreign exchange earnings with all the consequences for the hryvnia. In the occupied territories of the labor market and there is considerable part of the people to survive, to earn, will go where? Right, to the militants. And this movement yesterday clearly demonstrated to the General Directorate of intelligence," — said Poroshenko.
Recall, the Cabinet of Ministers of Ukraine in a month imposed a state of emergency (PE) in the energy sector. As reported, the Ministry of energy decided to submit to the government a decree on declaring a state of emergency in the power system due to the shortage of anthracite coal group. According to Natalika, total in storage now is 927 thousand tons of anthracite. The average daily consumption of anthracite is about 30 thousand tons per day.
The question of when we can expect a crisis situation, Nasalik said: "in two weeks will start, given the stocks that we have on different generations, this period may be from 14 to 45 days. But we can say that in two weeks we will be faced with the problem of covering peak loads in the power system".
While the Cabinet has announced that due to the suspension of shipments of anthracite from the occupied areas of Donbass power outage can relate to Kharkiv, Dnipropetrovsk, Kyiv, Chernihiv, Zaporizhya, Sumy and Cherkasy regions.
As for the already taken by Ukraine of loans, in 2017 the country will distribute a third of its budget for debt. Who and how should Ukraine.
Comments
comments