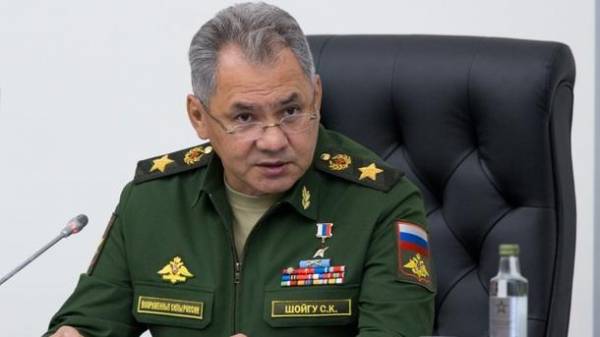 The Russian military leadership of the Pentagon is waiting for clarification on statements about plans to conduct a dialogue with Russia from a position of strength. This was stated by Russian defense Minister Sergei Shoigu.
"Today in Baku at the meeting of the chief of the Russian General staff army General Valery Gerasimov with his American counterpart Joseph Denford waiting for clarification of the position of the Pentagon", – said Sergey Shoigu.
So he responded to the words of the Pentagon chief James Mattis that the United States is committed to the restoration of cooperative relations with Russia, but will speak with Moscow "from a position of strength".
"We are ready to restore cooperation with the Pentagon. But attempts to build a dialogue from a position of strength against Russia is futile," – said Shoigu.
On Thursday in Baku held talks the chiefs of defence of the Russian Federation and the United States.
"The agreed agenda will include discussion of the current state and prospects of military cooperation between Russia and the United States, as well as preventing incidents in connection with military activities of the parties", – reported in the information Department of the defense Ministry.
Previously, the Pentagon chief James Mattis said that Russia should negotiate "from a position of strength". "At that time, as the United States and its allies are trying to engage with Russia, we must simultaneously defend themselves if Russia decided to act contrary to international law", – he said.
Mattis stressed that, as in the "dark days of the cold war, the United States continue to keep open the political channels of cooperation and de-escalation of disputes.
"We remain open to opportunities relative to the renewal of partnership relations with Moscow, at the same time remaining realistic in our expectations and provide our diplomats the ability to negotiate from a position of strength," – said the Minister of defense.
Comments
comments