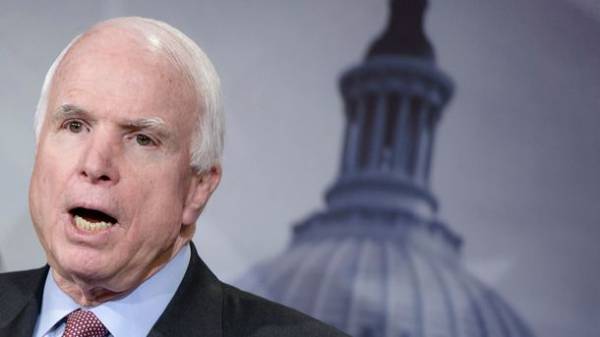 The resignation of national security adviser Michael Flynn raises even more questions about how the administration of President Donald trump will interact with Russia, said the head of the Senate Committee on armed services, Republican John McCain.
"The resignation of General Flynn … raises additional questions about the intentions of the administrations trump regarding Putin's Russia", – reads the statement McCain released Tuesday.
In addition, the Senator expressed surprise at the recent statements of trump "about the moral equivalence (of action) of the United States and Russia, despite their (Russian – Ed.) the invasion of Ukraine, annexation of Crimea, the threat to our NATO allies, attempts to interfere in the American elections."
"American policy towards Russia must be clear and unequivocal: we will fulfil our obligations to our NATO allies to maintain and strengthen our deterrent capability in Europe, will bring to justice the Russian human rights violators, will maintain sanctions against Russia, while it continues to violate the sovereignty and territorial integrity of Ukraine", – said McCain.
In his opinion, the resignation of Flynn is also "an alarming indication of dysfunction in the national security apparatus".
The Senator expressed hope that soon will be found a good replacement for Flynn.
As you know, Michael Flynn resigned from the post of assistant to the President Donald trump on national security.
A message about Flynn's resignation came after, as the Washington Post and the Associated Press Agency (AP) reported that the U.S. justice Department issued a warning to the White house that Flynn put himself in a compromising position because of the contact with the Russian Ambassador to the United States.
According to Reuters, the main problem for Flynn was that before the inauguration of trump's ex-military had not yet held the position of national security adviser. And then if he was talking to the Russian side about the possibility of lifting the sanctions, it was a violation of American law – private persons are forbidden to interfere in foreign policy.
Reportedly, trump has accepted the resignation of Flynn and appointed Lieutenant-General in the resignation of Keith Kellogg's acting assistant to the President for national security.
According to CNN, the successor to Flynn may be a former Director of the Central intelligence Agency (CIA) David Petraeus. The broadcaster said that in the near future Petraeus will visit the White house.
Comments
comments