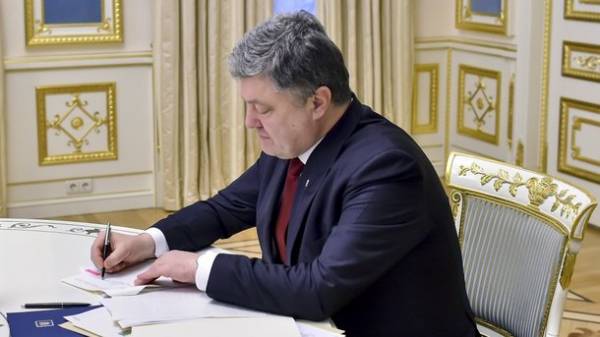 The President of Ukraine Petro Poroshenko enacted the decision of the Council of national security and defense Council (NSDC) of January 27, 2017, "Key indicators of the state defense order for 2017 and 2018, 2019".
The corresponding decree of the President of Ukraine No. 31/2017 published on the official website of the Ukrainian President today, February 13, 2017.
Monitoring the implementation of the NSDC decision, put into effect this decree, Poroshenko laid on the Secretary of the national security Council and defense of Ukraine – at the moment this position is held by Oleksandr Turchynov.
The decree comes into force from the date of its publication.
Recall that the members of the Council of national security and defence (NSDC) of Ukraine on January 27 considered and approved the main indicators of the state defense order for 2017.
The press service of the NSDC notes that the priorities identified in the state defense order:
development and production of new weapons and military equipment;
the development of the domestic military-industrial complex;
the increase in state guarantees for loans;
the simplification of the mechanism of obtaining credits for business entities that are involved in the implementation of state defense orders.
Defense procurement, in particular, predusmatrivaet support of the Armed forces of Ukraine and other military formations with new promising weapons and military equipment:
modern missile and artillery systems;
armored missile boats;
unmanned aerial vehicles;
tanks;
electronic warfare and radar;
modern means of communication and control;
the intelligence systems for artillery units;
by means of observation, aiming and night vision.
It is also planned modernization of aircraft, helicopters and other military equipment.
Comments
comments